New Range of Twin-Head Pumps Launched by Armstrong
Armstrong has launched a new range of twin-head pumps offering even greater energy efficiency and flexibility. The pumps are suitable for higher temperatures and pressures, as standard, than their predecessors. The range encompasses eleven pumps covering a range of duties from to 2.8l/s at 31kPa to 49l/s at 96kPa.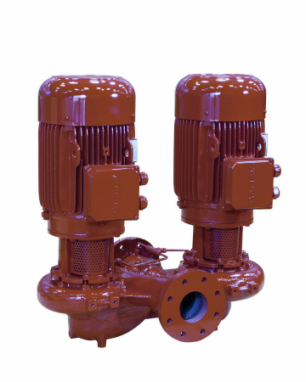 New Range of Twin-Head Pumps
The new twin-head pumps build on the success of the Armstrong Startwin range and share the same flange to flange dimensions, making them a direct replacement when retrofitting and upgrading, as well as being high-performance pumps for new applications. Energy performance has been much improved by the pump's designers through the use of Computational Fluid Dynamics (CFD). Energy efficiency is up to 10 points better than previous models and the pumps are suitable for a wider range of duties than ever before. Models in the range have a 16 bar casing as standard enabling them to be used for higher pressures and higher temperatures, removing the need for costly customisation or the specification of more expensive specialist pumps in these applications.
The twin-head pump range offer both fixed speed and variable speed options at each size. Variable speed capability is made available using Armstrong's intelligent IVS 'sensorless' technology. The pumps incorporate built-in inverters which automatically calculate the demand and adjust speed accordingly, thereby eliminating the need for differential pressure sensors across the HVAC system.
The pumps now available are the 4392 models. These are available in both fixed and variable speed with close coupled seal arrangements. A range of split-coupled models is due to be launched later this year.