New Pump Introduced to European Residential Market
Pentair Residential Flow in Italy successfully launched the energy-saving ERGON 5000 pump to the European market for residential and gardening applications.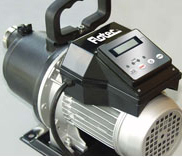 Pentair: ERGON 5000
The ERGON 5000 extends Pentair's eco-friendly pump technology to a new market. The product is a variable speed automatic pump with electronic control that provides increased energy efficiency and constant water pressure for home applications.
The ERGON 5000's electronic speed variation adjusts based on water demand, resulting not only in less wear on the pump, but also up to 35 percent energy savings. It's also easy for consumers to use, combining constant and adjustable pressure with fully automatic starting and stopping.
In addition, the pump features a multiple language LCD display.
Pentair's Residential Flow team members from Italy and Delavan, Wisconsin, are working on a 115-volt version for launch in the United States.
About Pentair
Pentair is a diversified operating company headquartered in Minneapolis, Minnesota. Its Water Group is a global leader in providing innovative products and systems used worldwide in the movement, treatment, storage and enjoyment of water. Pentair's Technical Products Group is a leader in the global enclosures and thermal management markets, designing and manufacturing thermal management products and standard, modified, and custom enclosures that house and protect sensitive electronics and electrical components. With 2008 revenues of $3.35 billion, Pentair employs approximately 13,100 people worldwide.