New Professional Piping Designer Program now Fully Operational
The Society of Piping Engineers and Designers (SPED) has successfully completed its final pilot test of its certification exam for Professional Piping Designer (PPD) Level III.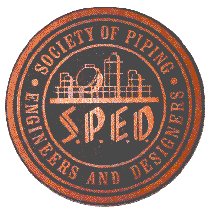 (picture: SPED).
The pilot test was given to 23 piping designers and engineers at the end of a SPED Process Plant Layout course sponsored by Mustang Engineering. The successful pilot test of the PPD Level III exam marks the completion of all certification exams for its four level Certification Program.
"The completion of both PPD level exams marks a major milestone in SPED's efforts to improve piping design skill levels in the profession," says Jack Belden, SPED President. "Employers and employees alike now have an unbiased, third party criterion to document piping design competency."
SPED expects the new program to fundamentally change how piping designers develop and document their skills. "Prior to the SPED PPD program," said Mr. Belden, "employers could only rely on a piper's resume to assess their level of design skill. They now have a new metric, supported by years of development and testing."
SPED had completed pilot testing on the PPD Level I Certification exam in 2004. "Level I required development of 5 test banks," said William G. Beazley, SPED Executive Director and Treasurer. "Level III required 17."
SPED is a non-profit professional society that promotes the enhancement of its members' technical abilities through education, training and community. SPED maintains a website providing tools and information to assist members in technical growth.