New Mixer for Biological Wastewater Treatment Cuts Energy Use By 50 Percent
Xylem has launched a new midsize Flygt mixer for biological wastewater treatment applications that uses up to 50 percent less energy than compact mixers.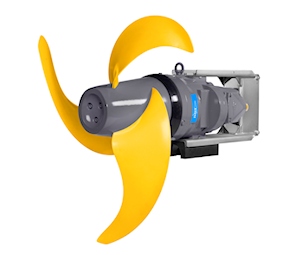 The Flygt 4530 mixer (Image: Xylem)
Tests show that customers can save on average up to €4,000 per year for each mixer installed by switching to the new Flygt 4530*. Xylem's new Flygt 4530 is a submersible mixer featuring a robust high-efficiency propeller of 1.2 metres in diameter. Typical applications for the Flygt 4530 include mixing in activated sludge processes, sludge holding tanks and digesters.
Andreas Lindberg, product manager with Xylem for submersible mixers said, "This new mixer has been developed by Xylem for applications where a full-size, low-speed mixer is too large and yet there is space for something larger than a compact mixer. Flygt 4530 is built on the same drive unit as the Flygt 4400 series, which has proven to be extremely reliable throughout the industry. This new mixer leverages Flygt's in-depth expertise gained by having the world's largest installed base of hundreds of thousands of submersible mixers worldwide. I believe the Flygt 4530 will prove to be a very popular product delivering trouble-free mixing at a lower overall life-cycle cost."
"It is very easy to replace an existing mixer with the new Flygt 4530. It can be easily installed on a wall-mounted single guide bar, just like a compact mixer. This rapid, straightforward installation helps to reduce the staff time and budget required for a changeover," Lindberg concluded.
With the launch of the new Flygt 4530, Xylem further expands its complete offering of mixers, including submersibles, jet mixers, and top entry agitators. The new Flygt 4530 is available in 4.3 kW (50 Hz) and 4.6 kW / 6.2 hp (60 Hz), with both models delivering a thrust range of 900 to 2200 Newtons.
* Savings based on test performance of Flygt 4530 versus a compact mixer in continuous operation according to ISO 21630:2007.