New MEKVX Series by Rovatti
The new ROVATTI close-coupled electric multi-stage centrifugal pumps, MEKVX series, have all components manufactured in micro-casting stainless steel AISI 316, and are able to combine high corrosion resistance, application flexibility and easy maintenance.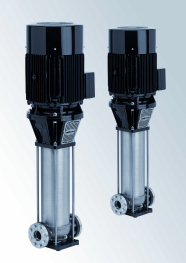 MEKVX Series
These pumps are recommended in many civil and industrial applications for water supply and pressurisation.
Developed and manufactured with the new advanced technologies in order to pump aggressive and corrosive waters, these new pumps are able to operate in the heaviest conditions with high efficiency and safety.
The thickness of all hydraulic components, without any welding, are granted to casted AISI 316 stainless steel pumps in the "EXTREME" range providing high wear resistance and longer lasting against corrosion.
The efficient, compact and noiseless close-coupled construction to the electric motor assures a wide range of applications and performances.
The MEKVX series, as well as all other pumps in the "EXTREME" range, are manufactured with the best available materials offering advanced technological solutions, longer operational life, reliability and easy maintenance.
About Rovatti
Since its conception by Virgilio Rovatti (1915-2004) in 1953, ROVATTI Pompe has been synonymous with technological developments in its sector. Over the years the company has diversified its activity from the production of pumps for agricultural applications to include pumps for industry, drainage and sewage. The company policy is to guarantee quality and compliance of Rovatti products to the specific requirements of VISION 2000.
Rovatti Pompe has acquired a vast wealth of unrivalled experience in the pumping industry and this unique understanding and knowledge is continually recycled and incorporated in its product range to the benefit of everyone.
Rovatti has always been heavily engaged in an active programme of research and development with particular attention to technological innovations, manufacturing processes, market analysis and protection of the environment contributing to a better quality of life.