New Economical Circulator Pump for Universal Use
The new Rio-Eco B circulator can be used for the entire field of heating, venting, air-conditioning and drinking water. The material selection – volute casing made of gunmetal and KTW-approved elastomers – makes this type series conform to the 2001 drinking water regulation.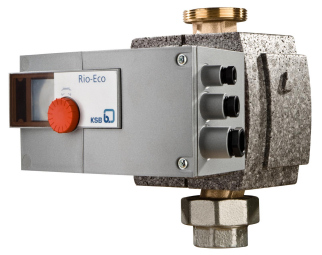 Rio-Eco B, the new drinking water and heating pump with electronically commutated motor for digital building management (Photo: KSB Aktiengesellschaft, Frankenthal, Germany).
Thanks to its newly developed high-efficiency design, this circulator received an "A" classification for its energy efficiency in heating, venting and air-conditioning applications. The circulator's low power consumption is due to its good hydraulic efficiency, for example, achieved by a plastic impeller with multiply curved vanes and by the sealed suction neck minimising internal leakage losses at the clearance gaps between impeller and casing.
The pump is driven by a synchronous motor fitted with a permanent magnet rotor, so that the magnetic field required in the rotor does not have to be generated by electrical energy. The rotating magnetic field in the stator is produced by electronic pole reversal, which also serves to adjust rotor speed. In part-load operation in particular, this makes for a considerably higher motor efficiency compared with conventional asynchronous motors.
The technology used for the maintenance-free wet-rotor pump saves up to 80 percent in energy compared with a fixed-speed circulator pump. A non-metal can in the electric motor reduces the occurrence of eddy currents. The motor guard with integrated tripping electronics eliminates the need for external monitoring equipment. This saves installation time and costs.
With a retrofittable LON/CAN interface, the pump can easily be integrated into all standard digital building management systems. The maximum flow rate of a Rio-Eco B single pump reaches up to 40 m³/h and a maximum head of about 12 m.