New Construction Means Production Expansion at Homa Pumpen
Work has already begun on constructing a new building complex on the HOMA parent company grounds in Neunkirchen-Seelscheid. The new construction will include a production hall and a new service and training center. The hall is expected to be completed by October 2011.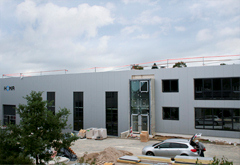 Homa
A continuous flow washing and painting system and a dynamometer with a DN1000 test track for large pumps and agitators with a basin volume of more than 700m³—which will use its own fresh water supply to fill it—will be installed in the production area. In the future, large pumps and agitators with a power output of up to 630 kW will be tested here.
In addition, the water from the test basin will be used for storing up a reserve of water for fighting fires.
To optimize dispatch handling, the one-story hall is also accessible to trucks and equipped with special heavy-duty crane systems so that large pumps assembled there can be loaded directly onto the trucks.
The new training center will be equipped with state-of-the-art systems engineering, and in the future will offer in-house employees and service partners in both technical and non-technical areas the option of obtaining additional qualifications.
With this new hall, HOMA is expanding its capacity — especially in the area of large-pump production — thereby taking into account the fact that the company s market position has grown considerably.