New Compact ATEX-Compliant Rotary Vane Pumps
Leading manufacturer of vacuum equipment, Edwards, has launched a new range of ATEX-compliant rotary vane pumps for potentially explosive environments.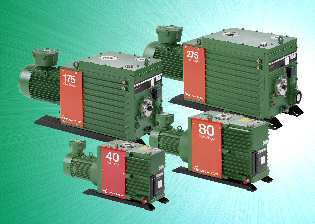 Edwards
The reliable and compact EM™ range, which gives a high ultimate vacuum down to 10-3 mbar, has been developed in response to customer demand and allows operators in the chemical industry to comply with the European ATEX Directive.
Suitable for pumping gases in the gas group IIB, the pumps are available in four sizes with pumping speeds from 40 to 275 m3h-1, in two stage designs. The smaller E2M40 and E2M80 pumps have an internal and external classification to T4. This means the pumps can operate safely in environments where the gas has an auto-ignition temperature greater than 135°C. The larger E2M175 and E2M275 have an external rating to T160 (160°C) and an internal rating to T3 (200°C).
There are many safety features on the pumps, including a surface temperature thermal snap switch, which is fitted to the body of the larger E2M175 and E2M275 pumps. When this is connected to an intrinsically safe circuit suitable for the hazardous zone, if the temperature should rise, the snap switch activates and the pump will shut down. Plugs have also been fitted to prevent flammable atmospheres accidentally entering the pump.
"As a leading vacuum equipment manufacturer it is our responsibility to make sure that we have a reliable, cost-effective solution for our customers for any application," says Nick Giles, Product Marketing Manager, Edwards. "The new ATEX-compliant EM range has been specially designed for use in hazardous environments and is a simple, easy-to-fit pump."
The pumps are compact with minimal vibration and low noise levels. They offer excellent operator protection and feature a finger-proof fan and coupling housings, and a totally enclosed fan-cooled motor.
They also require minimal maintenance. The advanced lubrication system allows the EM pumps to work with wide oil level tolerances, which reduce the need to top-up the oil and ensures reliable operation even at high gas loads. Larger pumps are designed so that all key components are easily accessible - the exhaust valve seals and oil distributor seals are exposed after the top cover is removed and the shaft seal can be replaced quickly without stripping down the pump.
About Edwards
Edwards (formerly BOC Edwards) is a leading supplier of integrated solutions for the manufacture of microelectronics devices, including semiconductors and flat panel displays. It is also a world leader in vacuum technology for industrial, scientific, process, and R&D applications. Edwards employs around 4,000 people globally, in the design, manufacture and support of high technology vacuum equipment. Edwards invented the concept of the commercial oil-free 'dry' vacuum pump and now supplements this with a wide range of other pumping technologies as well as related products and services.