New Brochure For Titan™ Slurry Pump
Flowserve Corp. has published a new brochure describing its Titan Slurry heavy-duty, dual case lined pump. This horizontal, single stage, end-suction pump features a tangential discharge and is engineered to handle high concentrations of coarse, abrasive solids in suspension.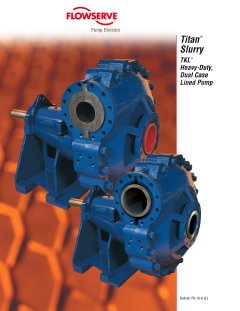 Titan Slurry Brochure (Foto: Flowserve)
According to the brochure, this pump is ideal for such applications as: abrasive process slurries; tailings; sand and gravel; bottom and fly ash; dredging; quarry duties; cement production; alumina production; mine dewatering; mill discharge and scale; lime circulation; and sugar processing.
The literature notes that this pump features a unique dual case design that employs an innovative, replaceable liner system to maximize wear resistance, efficiency and pump life while minimizing total cost of ownership. Numerous liner components are available including: natural rubber and polyurethane for fine solids and mildly corrosive slurries; high chrome iron for applications containing coarse solids, as well as those at higher pressures and temperature; and ceramic materials for hot, corrosive slurries. According to the brochure, the pump also features a high-efficiency closed vane impeller and a removable stuffing box that converts to various shaft sealing options without modification to the shaft, liner or impeller.
The brochure also points out that the Titan Slurry can be easily installed in place of competitor pumps with little or no site modification. All base mounting holes, flange sizes and positions are dimensionally compatible with the industry's most widely used pumps.
Flowserve Corp. is one of the world's leading providers of fluid motion and control products and services. Operating in 56 countries, the company produces engineered and industrial pumps, seals and valves as well as a range of related flow management services.