New ATU 301 Alarm Transmitter
Flygt introduced the new ATU 301 unit, an alarm transmitter with overflow monitoring functions designed specifically for wastewater applications.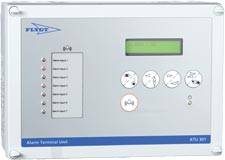 ATU 301 Alarm Transmitter (source: ITT Flygt)
The alarm transmitter has a multi purpose alarm unit, which is especially useful in remote locations when a process need surveillance to record and transmit data and alarms such as pump wells, spillage overflows and storm water tanks. The transmitters overflow monitoring function details complete information about an overflow event such as flooding pump sumps, etc.