New Armstrong Technology Offers Financial and Practical Benefits
Armstrong Fluid Technology has launched a new generation of its Tenantherm space heating and hot water solution for apartment blocks and social housing schemes. Building on its popularity with landlords, property developers and contractors, the new Tenantherm unit offers all the benefits of its predecessor, but has a lower up-front cost and greater flexibility. It is also suitable for integration with a wide range of renewable technologies.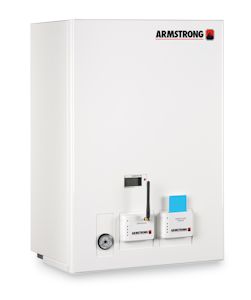 Tenantherm (Image: Armstrong)
Tenantherm offers significant advantages for landlords and property developers. Instead of requiring individual gas boilers and cylinders to be installed in each flat, Tenantherm is a compact, easy to install, fully integrated Heat Interface Unit which enables highly efficient heating and hot water to be supplied to each apartment from a centralised heat source. As gas boilers are no longer required in individual apartments, all problems and costs associated with mandatory annual gas safety inspections are eliminated. As Tenantherm units fully separate each tenant's system from the landlord's system they also provide improved billing, energy efficiency and tenant comfort.
Individual metering (for both energy and water) is available, to provide separate billing for each property. There are a range of meter reading options including manual, GSM, radio or centralised/BMS reading using RS485 bus communication. Tenantherm's built in technology also provides the building manager with the capability to offer the apartment occupant the use of a pay-as-you-go smart card. In addition it enables the tenant to control heating levels remotely, using SMS, for better management of their energy consumption and comfort.
By harnessing the greater energy efficiency opportunities of a centralised system, Tenantherm can assist local authority and social housing landlords to achieve their carbon reduction objectives. Energy efficiency of the centralised system is made possible through Armstrong's MBS heating solution which features integrated control of low carbon condensing boilers and variable speed pumps. The design of the Tenantherm units ensures the appropriate return temperatures to enable boilers to operate in their most efficient condensing mode, offering overall carbon savings compared to individual gas boilers in each property. Tenantherm units can also integrate easily with other low and zero carbon renewable heating solutions such as solar thermal technology, heat pumps and CHP.
Tenantherm provides a complete off-site manufactured system, for both the centralised system and the individual Heat Interface Units, to include factory assembled piping, wiring, controls and an integrated heat meter. As the system is provided fully-assembled, final installation of the Heat Interface Units can be achieved simply with semi-skilled labour rather than requiring registered CORGI/GasSafe or G3 personnel. In addition, there is no need for stored water in a system of this type, so the risk of Legionella is eliminated, and as the central heating boilers operate at lower temperatures, the formation of limescale in hard water areas is minimised.
The range incorporates four different designs of Heat Interface Unit, offering the flexibility to choose the heating and hot water delivery method best suited to the application. The units are housed in compact cupboards, freeing up space for the tenant.
There are no unsightly flues or gas piping required within the apartment, and no additional room ventilation is required. Most importantly, the Tenantherm system provides the landlord with greater control over key aspects of property management such as billing and energy performance.
Dominic Cutts, Commercial Director, Armstrong Fluid Technology explained, 'The regulatory framework for residential letting and community housing schemes is causing more and more problems for landlords and property management companies. This is happening at a time when rent arrears are on the increase, and profitability is being squeezed. Tenantherm removes the burden associated with annual gas inspections, and streamlines the billing process. The new generation of Tenantherm units offer an even stronger proposition, delivering reductions in up-front cost, as well providing a greener alternative to individual boiler installation in multiple residence buildings'.