New AISI 316 Stainless Steel CEA-CA Electric Pumps
Maximum attention to application requirements and constant research for the development of products with a high-performance profile: this is the combination which distinguishes Lowara S.r.l., an ITT Industries group company, in the study and construction of avant-garde solutions for pumping water.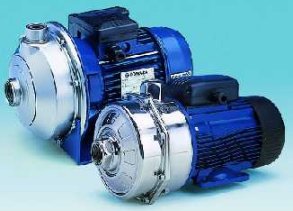 It is in this light that the extension of the CEA-CA series of single-impeller and dual-impeller centrifugal electric pumps can be seen with the addition to the range of the CEA-CA version N series with AISI stainless steel hydraulics.
The new series joins the pre-existing series of AISI 304 stainless steel models, already renowned for their reliability and strength, to meet the requirements of specific fields of application.
To be more precise, the new CEA-CA pumps from Lowara are able to work in sectors involving aggressive liquids such as acids or waters with high corrosion potential, thanks to the use of AISI stainless steel.
They are therefore used in industrial frameworks for applications associated with washing and treating waters as in the case of inverse osmosis systems.
Furthermore, they are also suitable for use in the jewellery sector not to mention environments where there are spa waters, systems for distributing chlorine in swimming pools and, finally, in wine production systems.
The new CEA-CA series in AISI 316 stainless steel includes over 40 models with three-phase and single-phase supply voltages. These are models which cover rated powers from 0.37–3 kW and a broad performance range with deliveries up to 520 l/min and heads up to 62 m.
Suitable for pumping liquids with temperatures from -10°C to +110°C, the new Lowara pumps are fitted with the most recent Lowara motor with aluminium alloy finned housings. Environmentally friendly thanks to the use of non-toxic resins, this motor guarantees low noise, easy wiring thanks to its practical terminals and, finally, protection against humidity with the presence of sealed bearings and single-piece motor housing and rear shield.
The enlargement of the CEA-CA range confirms Lowara's evolutionary thrust and its commitment to providing the most effective solutions all over the world for all kinds of pumping applications.