New Actuator for the Oil and Gas Industry
AUMA's new TIGRON actuators are designed to meet the exacting requirements of the global oil and gas industry. TIGRON combines the highest level of explosion protection, robust design, outstanding ease of operation, and the latest trends in digitalization.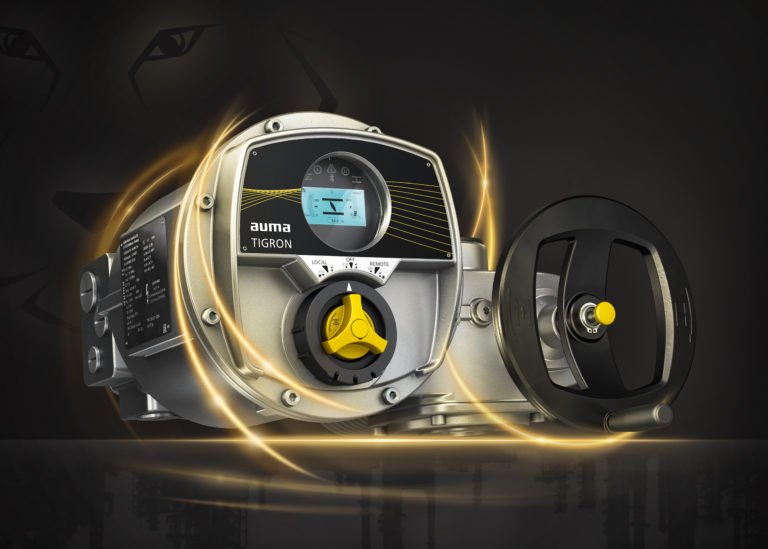 The new AUMA TIGRON provides safe and reliable valve automation for all oil and gas applications (Image Source: AUMA Riester GmbH & Co. KG)
The versatile all-rounder provides safe and reliable valve automation across all application sectors, including oil and gas production, pipelines, tank farms, refineries and petrochemical plants.
Safe and robust
TIGRON actuators are ATEX and IECEx certified for the highest gas group IIC, which includes the highly flammable hydrogen. Other approvals will follow. The actuators are designed to withstand the harshest environmental conditions, covering a particularly wide temperature range from –65 °C to +75 °C. IP68 enclosure protection and AUMA's extremely resistant powder coating protect effectively against tropical downpours, ocean spray and desert sandstorms.
For installation in hard-to-reach locations or where vibration is a problem, the controls can be mounted separately, up to 100 m away from the actuator. TIGRON actuators will also be available in SIL versions.
Future-proof
Powerful electronics, innovative sensor systems and a wide variety of interfaces ensure that TIGRON is future-proof as digitalisation advances. Data upload to the AUMA Cloud facilitates predictive maintenance. Low standby power consumption reduces the actuator's carbon footprint and decreases operating costs.
Easy to use
Excellent usability is another feature of TIGRON actuators. Particularly striking are the large display and the robust Combi-Switch, which can be operated easily even when wearing gloves. An on-board commissioning assistant guides the operator safely through the setting procedure. TIGRON actuators provide non-intrusive setup without requiring additional tools for commissioning.
Versatile
TIGRON actuators work with all types of valves. As a multi-turn actuator, TIGRON is ideal for gate valve automation. It is available in six sizes, providing torques from 10 Nm up to 1,000 Nm. Higher torques can be achieved in combination with multi-turn gearboxes. For ball, butterfly and globe valve automation, TIGRON actuators are combined with part-turn gearboxes or linear thrust units. The smart actuators are suitable for the most challenging automation tasks, such as high-precision operation of control valves or choke valves.
"Our new TIGRON is robust and reliable, easy to use, and a perfect match to all the requirements of the oil and gas industry," says Kai Ewald, Head of Sales Oil & Gas at AUMA. "TIGRON actuators help plant operators enhance their efficiency and strengthen their market position. With TIGRON, they are well equipped for modern plant automation, today and tomorrow."