NETZSCH Honours Long-Serving Employees
One key factor for a successful company is long-serving and loyal employees. NETZSCH Pumpen & Systeme GmbH from Waldkraiburg honoured twelve long-serving employees in a festive atmosphere at the beginning of December.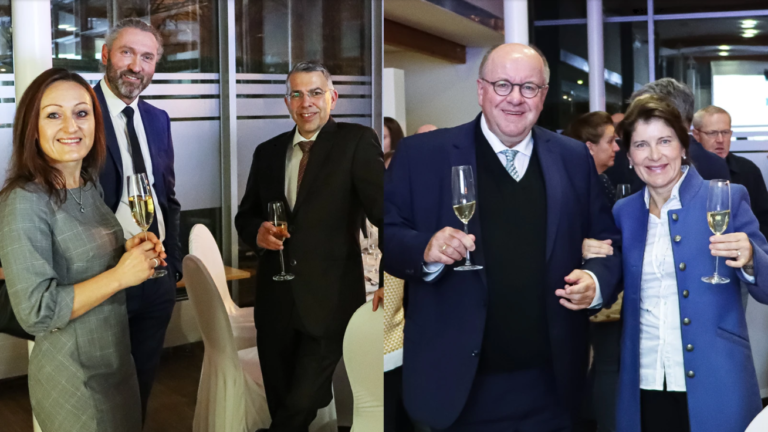 Exuberant atmosphere for the anniversary in a festive ambience (Image source: NETZSCH Pumpen & Systeme GmbH)
"Thanks to your loyalty to our company over many years, we are in an excellent economic situation despite countless challenges, and we see ourselves very well positioned for the future," said Felix Kleinert, managing director of NETZSCH Pumpen & Systeme GmbH, introducing the evening. Alongside him, Jens Heidkötter, also managing director of NETZSCH Pumpen & Systeme GmbH, and Jens Niessner, managing director of the NETZSCH Group, had nothing but words of praise to kick off the event.
To the applause of those present, Theresia Dietrich, Ernst Legler, Norbert Linsmaier and Werner Waldmann were honoured for 40 years of company loyalty. Andrej Schneider, Christian Spacek, Egon Grainer, Markus Wachinger, Martin Weisser, Roger Willis, Roland Hundseder and Stipo Marjanovic were congratulated on their 25th anniversary. In addition to a certificate of honour and a bouquet, all jubilarians received a few presents.
In addition to the works council and the shareholders, Heidkötter once again emphasised the lifetime achievements of the jubilarians for the company and also paid particular attention to the families of the jubilarians: "Thank you very much for your many years of loyalty; that is anything but a matter of course. I would also like to take this opportunity to thank your families, without their encouragement, this would not be possible."
After the official part, the relaxed part of the evening began. The honourees were toasted over a multi-course meal. Afterwards, the participants celebrated with dancing and music before the evening ended.