National Oilwell Varco Completes Acquisition of Robbins & Myers
National Oilwell Varco (NOV) completed the acquisition of Robbins & Myers on February 20, 2013. "Robbins & Myers has an excellent reputation in the industries it serves, and the merger of these two companies will provide us with an incredible opportunity to expand the products and services offered to our customers," said Pete Miller, Chairman and CEO of National Oilwell Varco.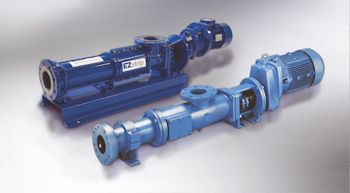 National Oilwell Varco
As a result of the acquisition, many of the Robbins & Myers industrial products have been placed under the Houston-based NOV Mono division of National Oilwell Varco. The placement of these products resulted in an enhanced NOV Mono business that is now positioned as a global player in industrial pumping technology, offering a broad portfolio of products and services to help global industries improve production, reliability and profitability.
The new NOV Mono is now the world's largest designer and manufacturer of progressing cavity pumps. They also design and manufacture associated industrial products including grinders, screens, mixers, parts and packaged solutions. These product solutions have a variety of applications in water and waste water, pulp and paper, specialty chemicals, pharmaceutical, food and beverage, mining and mineral processing, oil and gas, energy, solar and agricultural.
NOV Mono Senior Vice President Santosh Mathilakath, who leads the new company, said the combination of these strong businesses represents a new force in the industrial pump arena, building on each company's rich history and unique market strengths to provide customers with unparalleled breadth and depth of solutions and services.
"The combination of these businesses creates a platform for significant growth," said Mathilakath. "Our truly global footprint, combined engineering strength, larger market channels, enhanced manufacturing and broadened supply chain capabilities will enable NOV Mono to rapidly create enhanced value propositions for customers, realize manufacturing and supply chain efficiencies, shorten response time, and provide a superior customer experience."
The legacy Robbins & Myers business was a leading supplier of engineered equipment and systems for critical applications in global energy, industrial, municipal, chemical and pharmaceutical markets. The following Robbins & Myers businesses are now part of the NOV Mono business:
Springfield, Ohio-based Moyno Inc., manufacturer of progressing cavity pumps, sludge pumps, metering pumps, sanitary pumps, mag-drive pumps, multiphase fluids transfer systems and grinders.
Dayton, Ohio-based Chemineer Inc., provider of mixing technology and manufacturer of quality equipment for fluid agitation applications.
Claremore, Okla.-based Tarby Inc., manufacturer of progressing cavity replacement parts and pumps.
In addition to the recently acquired Robbins & Myers businesses, NOV Mono also has manufacturing facilities in Melbourne, Australia; Shanghai, China; Manchester, UK; Buenos Aires, Argentina and Houston, Texas.
Since the merger announcement, the two companies are executing a comprehensive integration plan designed to rapidly combine their operations, subsidiaries and product lines without any interruption or inconvenience to their customers.