Moyno 2000 CC Pump Offers Versatility and Cost-Efficiency
The Moyno 2000 CC pump provides unmatched performance in a competitively priced, compact, close-coupled configuration. It is designed for municipal and industrial applications where close-coupled configurations are preferred, but the robustness of a gear joint drive is needed.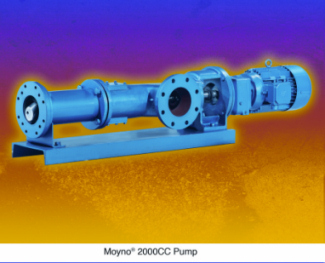 Moyno 2000 CC Pump
The Moyno 2000 CC features a sealed gear-type universal joint drive train and optimized rotor/stator pumping element geometry. The new pump is designed to efficiently transfer abrasive, high-solids content materials. Utilizing proprietary Ultra-Drive® gear-joint technology, the Moyno 2000 CC pump effectively handles radial and thrust loads for maximum performance. Ultra-Pro® rotor/stator pumping elements are expertly engineered to require less energy consumption and reduce the potential for plugging and costly down time.
The rugged gear joint drive Moyno 2000 CC pump offers cost-effective, dependable pumping action for long service life and low total cost of ownership. All internal parts are interchangeable with other Moyno 2000 pumps for easy, economical replacement parts inventory management.
The Moyno 2000 CC Pump is ideal for:
Positive displacement sludge transfer
Scum and grease pumping
Dewatering equipment feeding
Lime slurry transfer and dosing
Polymer transfer and dosing
Chemical metering and transfer
Sampling influent and effluent
About Moyno
Moyno, Inc., part of the Robbins & Myers Fluid Management Group, is a leading manufacturer and marketer of Moyno progressing cavity pumps, multiphase fluid transfer systems, grinders and controls. It has an extensive worldwide stocking distribution network that serves a wide range of industries including water and wastewater treatment, pulp and paper, chemical, food, pharmaceutical, mining, petrochemical and oil and gas recovery.