Mouvex Launches YouTube Channel
Mouvex, a manufacturer of positive displacement pumps and compressors for the transfer of liquids or dry bulk products, has announced the launch of its own YouTube channel.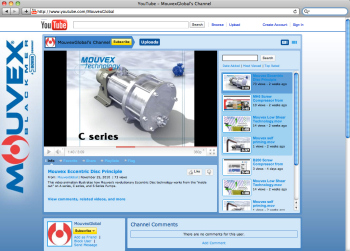 New YouTube channel (Image: Mouvex)
The new Mouvex YouTube channel has been designed to be a repository for a wide array of videos and animations that focus on the operation of Mouvex's pump and compressor technologies and principles, as well as the standard-setting features and benefits that each product can offer the industry.
In addition to giving site visitors easy access to Mouvex's products, along with an explanation of how they work, the YouTube channel can be an invaluable tool for distributors who are looking for a quick, easy way to introduce pump and compressor users to Mouvex by linking to the YouTube channel from their company Web sites. The YouTube channel already features a number of videos and additional content will be added as it becomes available. Future video topics may include customer success stories, new product releases and roundups of trade show appearances.