Motorized Diaphragm Valve for Aseptic Plant Sections by Gemü
With type 649, Gemü is launching a motorized diaphragm valve for sterile and hygienic applications.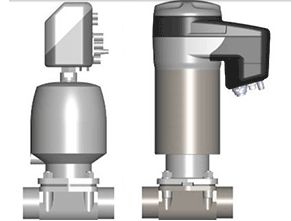 The valve was designed specifically for controlling media with high purity requirements, such as aqua purificata (AP), high purified water (HPW) or water for injection (WFI), in compliance with the regulatory codes of the pharmaceutical industry and the food and drink industry, and will be available in nominal sizes from DN 6 to DN 150.
With actuating speeds of up to 6 mm/s (depending on the actuator size), GEMÜ is expanding the range of and offering an alternative to the existing pneumatically driven GEMÜ 650 and GEMÜ 660 (filling valve) diaphragm valves with an even more precise control characteristic of ±0.1%. The tried and tested and EHEDG-certified seal system is also used.
Using the electric actuator offers particular advantages in systems where no compressed air is available, in systems which are intended for mobile use or in systems where a cost-intensive supply of sterile air would be required.
In remote mode, the actuator can be operated using both standard signals (digital/analogue inputs/outputs) and via an interface with an integrated web browser (eSy-Web). eSy-Web can be used to check and adapt the actuator data without additional software or link several actuators together. The energy supply to the actuator can be protected against power failures by an optional emergency power supply module. The GEMÜ 649 is additionally supplied with an integrated manual override, a mechanical position indicator and an electrical status and position indicator.
The innovative DC motor is based on the hollow shaft principle. Since the motor operates with no brushes and commutation is performed without sensors, the motor parts do not wear, resulting in a longer service life. At the same time, a compact design could be implemented, meaning that the valve can be compared to pneumatic actuators and an additional control assembly.
The nominal sizes DN 32, DN 40 and DN 50 will be available from the sales launch, while other sizes will be released over the course of the year.
Product compliance and product suitability:
FDA
USP
Regulation (EC) No. 1935/2004 on materials and articles intended to come into contact with food
Regulation (EC) No. 10/2011 on plastic materials and articles intended to come into contact with food
Pressure Equipment Directive 2014/68/EU
Machinery Directive 2006/42/EC
EMC Directive 2014/30/EC
Hygienic design according to DIN 11866
Protection class IP 6
Product details:
Body materials: Including investment cast body made from 1.4435 and forged body made from 1.4435/F316L or 1.4539; other body materials available on request
Internal surface finishes of the body up to Ra ≤ 0.25 μm
Valve body versions: Tank bottom valve body for containers and bioreactors, 2/2-way body for piping, T body for piping, sampling and distribution and mixing functions, multi-port body for dosing, distribution and mixing functions and for block and bleed
Connections: Clamp, flange, threaded sockets, threaded spigots, spigots
Image: Size comparison between the GEMÜ 649 with integrated positioner and process controller and the GEMÜ 650 with attached GEMÜ 1436 positioner and process controller