Motion Monitoring In the Digital Age: Versatile Motion Failure Alarm Facilitates Commissioning and Configuration
Siemens presents Sitrans WM300 (MFA), a new motion failure alarm detecting changes in the motion and speed of rotating, reciprocating, or conveying equipment. This alarm acts as an early warning system for a plant's machinery, alerting users to potential problems in their operations before they occur or develop into something more serious.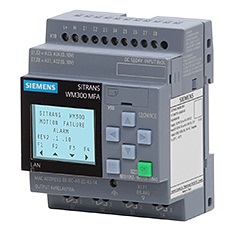 Motion Monitoring: Versatile Motion Failure Alarm Facilitates Commissioning and Configuration (Image: Siemens)
This versatile unit excels in a variety of applications in industries such as mining, aggregates and cement power generation, and food and beverage.
This space-saving device replaces many older MFA style controllers, reducing both wiring time and the space required in cabinets. In fact, four Sitrans WM300s can fit in the same footprint as that of older motion failure alarms. Other new features include the ability to monitor multiple machines at once with twin, independent probe inputs and an additional two inputs for differential speed detection. With intuitive, easy-to-configure digital programming, users gain precise set point control of machines or processes for accurate alarming that can prevent potentially costly downtime or damage.
With over- and under-speed alarming, Sitrans WM300 MFA also features an optional analog output module, which can convert the device into a noncontacting tachometer with two milli amps outputs. And with its adjustable 0- to 60-second time delay, this intelligent alarm allows the monitored equipment to accelerate to normal running speed before monitoring begins. Motion failure alarms monitor a variety of equipment, including tail pulley shafts, driven pulleys, motor shaft sensing, belt or drag conveyors, and fans and pumps. In the mining, aggregates and cement industry, for example, Sitrans WM300 MFA monitors bucket elevators and screw conveyors for continuous conveying. And in the food and beverage or chemical industries, the alarm monitors mixers to ensure non-stop operation. Compact, rugged and reliable motion failure alarms from Siemens are economical investments with a large impact-ensuring peace of mind and protecting a plant's critical processes.