Mostra Convegno Expocomfort 2014 has Closed with Record Results
156,000 trade visitors from Europe to Pacific Islands have found the very best in the Italian and international plumbing, heating and sanitary ware industries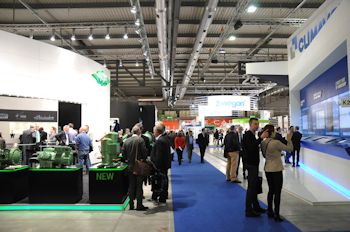 MCE 2014 has Closed with Record Results (Image: MCE)
MCE-Mostra Convegno Expocomfort has solidified its position at the heart of companies' business strategy dedicated to residential and industrial installations, air-conditioning and, renewable energy. An international showcase, that has closed today the 39th MCE registering an all-time best for attendance figures, notwithstanding a critical week due to public transport strike faced by MCE with a replacement shuttle bus service, so as to avoid annoyance and nuisance to its exhibitors or visitors.
More than 2,000 exhibitors, of whom 43% from abroad and 156,000 trade visitors, with a 3% increase in international visitor numbers compared to the 2012 edition.
In particular, there has been a rise in the number of attendees coming from the Russian Federation, Turkey and Poland compared to the previous edition. Germany, France, Spain, Great Britain, are in line with the previous edition with major increase figures, confirming the trend of the show of trust by foreign visitors in a leading specialized trade fair. Moreover, there has been an increase in participation from many strategic markets compared to the 2012 edition, such as: India, China, United Arab Emirates, United States of America, Australia, Baltic States and the countries of former Yugoslavia, accompanied by a growing number of attendees coming from across the African continent (in particular, Algeria, Ethiopia, Ghana, Libya, Nigeria).
A large audience of skilled professionals who turned to MCE as an International benchmark event, an unparalleled showcase for the most groundbreaking installations technologies and solutions that combine comfort and wellness with the excellence in terms of energy efficiency, water conservation, safety and design.
Plus, a resounding thumbs up for the rich programme of over 200 conferences and workshops, a unique opportunity for educational and professional upgrading focused on the most topical themes aimed at professionals in those industries targeting innovation, quality and environmental sustainability to maintain our first place as leader in the market, with Germany surging into second place.
"We are proud of the outstanding results achieved at MCE 2014 – declared Massimiliano Pierini, Business Unit Director of Reed Exhibitions Italia – and we will continue to be a strategic tool developing our exhibiting companies' business, in close collaboration with the main trade associations".
Anima, Angaisa, Aicarr, Assistal bringing together businesses and professionals at MCE, have contributed to the success of a show that gives a positive message launching future challenges: seize the opportunity offered by the two most attractive markets showing the highest potential in the plumbing, heating and sanitary ware industries, Saudi Arabia and South-east Asia, with the launch of MCE SAUDI, from 4 to 6 May 2015 in Riyadh and MCE ASIA from 2 to 4 September 2015 in Singapore, a strategic hub towards several countries, such as Thailand, Vietnam, Indonesia, Philippines, Malaysia, South Korea.
Investments in Saudi Arabia are expected to reach 214 billion Euros in four years, of which 22% in residential buildings and 15% in non-residential buildings. The master plan of the island city of Singapore predicts 80% of green buildings by 2030, with the purpose of making Singapore a leading global sustainable city. Investments in building likely to rise 5% per year in the next four years across the region (source: Cresme).
Extremely attractive markets for the plumbing, heating and sanitary ware industries and their best-in-class products and solutions for a comfortable and sustainable living, that tie in with the added value of Made in Italy.