Micropumps are the Real Deal for Mechanical Seal Flushing
Flushing mechanical seals on large industrial pumps is an important function in many process applications and common practice in helping to minimise mechanical seal failure. The flushing process helps to extend the life of seals by cleaning and or cooling them.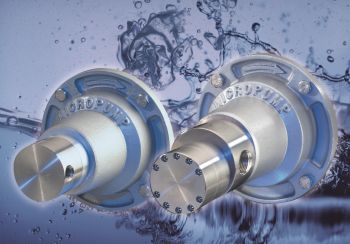 Micropumps are the Real Deal for Mechanical Seal Flushing (Image: Micheal Smith Engineers)
There are many methods deployed for implementing 'seal flush', but in most cases fluid is either re-circulated from other points on the pump (usually the output) or from an external source for the flushing stream. In most cases, an increase in pressure, and or flow control may be required and small gear pumps are often used for this purpose.
Micropump Gear Pumps available in the UK from Micheal Smith Engineers are magnetically driven and well suited to these applications as they provide a well-controlled, smooth flow. They also feature wetted material options including 316 SS, PEEK, PPS, Viton and Kalrez which ensure outstanding chemical capability and withstand the temperature ranges typically associated with mechanical seal flush applications.
The models commonly used for seal flush applications are the Micropump Series GC which is a suction shoe style gear pump design which allows the pump to self-compensate for wear. They provide flow rates from 0.405 to 13.9 lit/min and are able to maintain high volumetric efficiency, even at higher pressures (max differential pressure up to 8.6 Bar and maximum system pressures up to 103 Bar). Also, thanks to reducing the number of components to an absolute minimum, the suction shoe design minimises downtime and simplifies servicing.
The Micropump Series GL can also be used for flushing and provides the option of higher flow rates when required, for example 2.3 to 26.6 lit/min at maximum differential pressures of up to 8.6 bar and maximum system pressures to 103 bar.
Micropump magnetically coupled gear pumps are proven and reliable in providing precise and pulseless positive displacement pumping and leak-free operation. When coupled with multiple drive and motor options they are ideal for many low flow applications in addition to mechanical seal flushing duties. The external gear design provides the benefit of a smooth, pulse-free and highly accurate output, so the distribution of process liquids is even and constant, as opposed to more unpredictable pulsed flows from other types of pump.