Megator's Sensible Mining Pump
Megator distributors, Australian Pump Industries, are seeing new applications for these unique self-priming positive displacement pumps.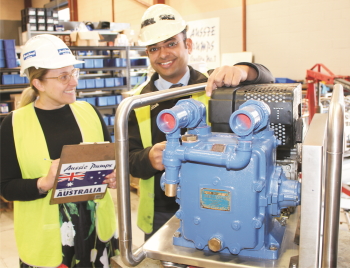 Megator's self priming, positive displacement pump has a unique sliding shoe concept ideal for oily waste transfer and effluent. (Image source: Aussie Pumps)
The sliding shoe design comes out of a requirement for pumps in the mining and marine industries. Megator specify cast iron and sometimes bronze configurations. The Megator sliding shoe design means it can be used in a wide range of applications including oily waste transfer and of course for effluent and hazardous applications including spoils.
So what is a Megator pump? It is a positive displacement pump with super suction, self-priming and dry running capabilities. It allows easy access to the working parts resulting in reduced maintenance costs and downtime. They are specified by knowledgeable engineers for horrible jobs like recovering oil from sumps, pits, ponds and oil traps. They can gather water in mines, stripping sludge from tank bottoms or pumping diesel fuel and lubricating oil.
The pumps self-prime, although they are positive displacement in design. The Megators deliver a "super-suction" performance that is provided by the unique sliding shoe concept. The working parts are entirely submerged and liquid sealed, even when pumping air. Liquid sealing allows for self-priming and enables the pump to safely run with a completely dry suction without depending on a by-pass or other easily blocked devices. Best of all, the Megator sliding shoe pump will handle liquids of any viscosity, to the maximum of what is economically feasible. Some reduction of speed may be necessary at the highest viscosities.
The pump is equally effective on water or other thin liquids that have little lubricating or penetrating properties. It readily handles free flowing or viscous liquids or a mixture of both. To meet the specialised requirements of different industries, Megator has developed versatile assemblies. They can be electric, (single or 3 phase), petrol or diesel driven. Air or hydraulic drives are also available. The product lends itself to stationary, skid mount or portable versions. They are popular on work boats and tugs. Bronze configuration pumps are available, or if weight is an issue, even aluminium.
Australian Pump got interested in Megator based on their heavy commitment to supporting the Royal Australian Navy. Many Navy ships use Megator pumps in bilge or even laundry waste applications. "If you have got a horrible job, give it to a Megator", said Aussie Pumps Chief Engineer, John Hales.