MCE – Mostra Convegno Expocomfort 2010 Shows Signs of Confidence in Global Economic Recovery
Scheduled for 23rd-27th March 2010 at Fiera Milano Exhibition Centre Rho, MCE registers more than 70% of the exhibition area already confirmed, in its four main sectors: heating, cooling, energy and water.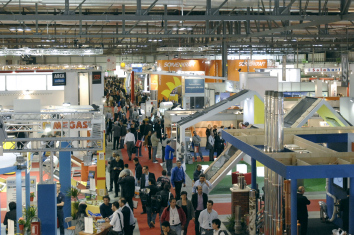 Mostra Convegno Expocomfort (Reed Exhibitions)
Preparations for MCE are in full swing. MCE – MOSTRA CONVEGNO EXPOCOMFORT 2010, the world's most important specialised trade fair in the HVAC, plumbing and sanitary fitting sectors organized by Reed Exhibitions, the world's leading organizer of trade and consumer events – will take place from 23rd to 27th March 2010 at Fiera Milano Exhibition Centre Rho.
The exhibition, which in 2008 recorded a 17% rise in foreign visitor numbers with an overall attendance figure of more than 167.000 trade visitors, - confirms its position as an international point of reference for civil and industrial system sectors, offering an excellent opportunity to develop new business contacts.
"The next edition of MCE – declared Massimiliano Pierini, Exhibition Director – will highlight the most innovative and technological solutions presented by the exhibiting companies, creating a synergy with the different exhibition areas to attract an audience of top professionals particularly focused on foreign trade visitors. The key objective of the event is to further increase business opportunities creating the ideal conditions for bringing together supply and demand, within the general context of an economic recovery expected by 2010".
Notwithstanding the difficult global economic scenario, the leading Italian and foreign companies have already confirmed their presence at MCE 2010 (more than 70% of the exhibition area) exhibiting in its four main sectors: heating, renewable energies, air-conditioning, refrigeration, plumbing and sanitary technologies, components, water treatment and bathroom world. The result is a high level of loyalty on the part of its exhibitors, who take part in, edition after edition (24% of rebooking by foreign exhibitors). In 2008, foreign exhibiting companies represented about 40% of the total exhibitors from 56 countries.
Innovation, comfort, and great attention to energy efficiency and saving issues are the drivers of the 2010 edition. MCE is the unparalleled showcase of a technological and cultural evolution to further improve the quality of life and working conditions in the areas inhabited by man. "Emotional Technology" is the concept behind MCE 2010, a technology responding to the awareness that economic development must go hand in hand with preserving energy resources.
An important role at MCE 2010 will be played by the successful synergy with the other two dedicated events: Expobagno, an international benchmark event for all professionals in HVAC and plumbing/sanitary sectors and Next Energy, the leading event devoted to energy efficiency, a unique opportunity to establish business contacts with professional trade operators in different activity sectors.
The 2010 edition of MCE – MOSTRA CONVEGNO EXPOCOMFORT will offer, a series of special initiatives focussed on energy saving and renewable energy sources. In particular, the "Energy Efficiency Itinerary", is also set to return, a sort of "Ariadne's thread" a path through the physical space of the exhibition, that highlights the products on display, which fulfil the requirements laid down by Italian energy efficiency legislation. Amongst the initiatives proposed for MCE 2010, is the event hosted by Next Energy, an interactive area intended for an expert public of designers, architects and engineers, focusing on regulation aspects and design standards of great topical interest.
Moreover, the 2010 edition represents a valuable opportunity to emphasize the consolidation of MCE partnership with some of the most authoritative trade associations, at domestic and international levels. The decennial collaboration with ANGAISA (Italian Dealer Association for Plumbing Equipment, HVAC, Flooring, Tiles and Bathroom Fittings), will develop at different levels, bringing to light the latest design and style trends in HVAC and plumbing/sanitary fitting sectors. In particular, MCE 2010 and ANGAISA intend to promote a new initiative particularly dedicated to the bathroom world and logistics sector, with the aim at developing the event called "TECNOPOLIS", in 2008.
MCE 2010 in collaboration with ANIMA (Federation of Italian Associations of Mechanical, Engineering and related Industries) will put more focus on the key issues of industrial production, Made in Italy, and environmental safeguard. The 2010 edition will propose once again the "Committee for the Protection of Intellectual and Industrial Property - ANIMA - Mostra Convegno Expocomfort". The Committee is a unique and innovative tool enabling rapid intervention during the exhibition to remove the counterfeit items, once the infringement of Industrial and Intellectual property rights has been established.
As from now, MCE – MOSTRA CONVEGNO EXPOCOMFORT 2010 promises to be an essential occasion for both small and large businesses operating at the cutting edge of technological evolution in civil and industrial systems. Attendees will be able to establish contacts with: technicians, professionals, buyers, distributors, project designers and professionals in the HVAC and plumbing/sanitary sectors from all over the world.
About MCE - Mostra Convegno Expocomfort
Mostra Convegno Expocomfort is the international biennial exhibition dedicated to "Emotional Technology" aimed at civil and industrial plant engineering: heating, air-conditioning, refrigeration, components, valves, plumbing technology, bathroom world, water treatment, implements, renewable energies and services. Mostra Convegno Expocomfort is a trade fair owned by Reed Exhibitions, the world's leading exhibition and conference organizer with a portfolio of over 500 events staged in 38 countries, bringing together 90.000 manufacturing companies and more than 6 million buyers. With 39 local organizing offices around the globe, Reed Exhibitions serves 47 key industry sectors worldwide. Its network of offices and promoters extends to 65 countries. Set up in 1960 as the first specialized fair in Italy, MCE has been a leader in the sector for over 40 years thanks to its proven ability to follow the evolution of reference markets, creating opportunities for meetings and comparisons, as well as technical, cultural and political debate.