Maximum Performance at 6,200 bar
The 6,200 bar technology is steadily on its way to become the superior standard concerning waterjet cutting.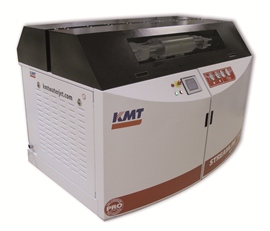 High pressure pump StreamlineTM Pro-I 125D (Image: KMT)
At last year's EuroBLECH fair in October in Hanover, this trend could be clearly observed: No less than eight exhibitors invited their visitors to see a 6,200 bar pump performing on their booth. The advantages of the high pressure, of course, are numerous: The cut speed can be increased significantly depending on the material, the cut edge quality can be enhanced thanks to reduced tapers, and the user can save costs concerning abrasive, energy, and water consumption.
High flow rate and steady pressure signal
The pump with the most powerful performance in this segment is the high pressure pump StreamlineTM Pro-I 125D. At maximum pressure, its high-power 93 kW (125 PS) engine allows for a flow rate of 5.8 l/min. Compared to the StreamlineTM Pro-I 60S, it can thus operate twice as many cutting heads simultaneously. Therefore, the user is able to produce twice as many pieces at the same time and with almost the same required floor space. Additionally, the high flow rate makes it possible to assemble a cutting head with an orifice size of up to 0.38 mm in diameter. So even cutting extremely thick or solid materials is no problem at all.
Concerning the pressure signal, KMT also offers a high standard with the StreamlineTM Pro-I 125D: The cutting pressure of 6,200 bar is produced with the help of two pressure intensifiers operated with a phase shift that pump the cutting water to the cutting heads. This way, the pressure drop resulting from the shifting of the plungers can be nearly leveled out. Combined with the interconnected 1.6 l pressure accumulator, this leads to a virtually continuous pressure signal. Thus, the Pro-I 125D is optimally suited for waterjet cutting at the highest level.