Maag Automatik Plastics Machinery Wins Major Contract
Maag Automatik (a Dover Corporation Member) is proud to announce that M&G Finanziaria (Italy) has chosen the German manufacturer to supply the equipment needed for a complete PET pelletizing plant. Not only will Automatik deliver a number of its production proven underwater Sphero pelletizing systems but also corresponding melt pumps, screen changers and the company s highly innovative direct crystallization CC-PET process.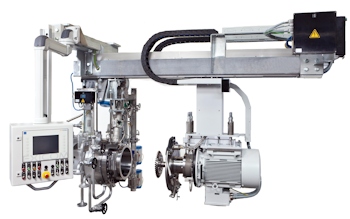 Automatik Plastic's Machinery Sphero underwater pelletizer (Image: Maag)
Located in Corpus Christi, Texas, the new operation is designed for a capacity of 1 million tons per year and as a consequence will be the largest PET production site ever built. Commissioning is expected to commence by the end of 2015.The M&G Group is among the world s three largest producers of PET resin for packaging applications, and the second largest in the Americas. The company expects that the project will both consolidate and strengthen its dominant position.
Maag Automatik is particularly pleased that the M&G group has decided to further cement the existing, successful relationship between the two market leaders and selected Automatik as partner for this challenging and pioneering project. This once in a decade order underlines once more the unrivalled leadership of Maag Automatik in the supply of PET pelletizing systems.