Lowara Launches New Submersible Grinder Pump For Residential Applications
An efficient new grinder pump from Lowara is set to clean up in the domestic sewage market.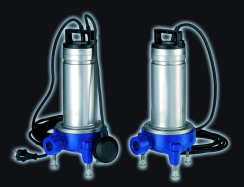 ITT Lowara.
The new DOMO GRI has been designed to deliver domestic sewage, liquids containing solids or fibres, and waste-water from residential buildings to the sewer mains or a pressurized sewer network.
Constructors face a number of challenges for which DOMO GRI is the ideal solution. DOMO GRI comes into its own in farm areas, small villages and homes built in remote areas where the conventional gravity sewage network is too expensive to commission.
The pumps are particularly effective where the sewer mains is located at high level or where the ground level is variable. It is also a cost-effective option where the flow of the sewage is seasonal, such as in holiday homes and camping grounds. DOMO GRI features a completely new, extremely efficient and highly reliable grinder system. The grinder is able to macerate all the solids present in the sewage into small pieces able to pass through the pump impeller and smaller discharge pipes (R1"). Not only is the risk of clogging or blockage extremely low, contractors are able to minimize investment costs by using smaller pipes or where such pipes are the only option. The grinder system is easily replaceable to ensure that any downtime is minimised and that maintenance is easy and quick.