Lowara Enhances Vertical Multi-stage ATEX Pump Range
Xylem has expanded its popular range of Lowara vertical multi-stage pumps with the launch of a new high efficiency model, the e-SV ATEX, for use in potentially volatile environments.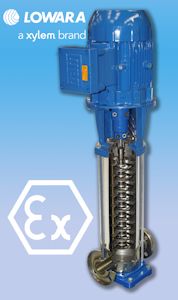 Xylem Lowara
First introduced in 2010, the Lowara e-SV range has become synonymous with high quality and outstanding performance due to its innovative hydraulic design and energy efficient properties. The latest variant is no different, and is able to deliver a flow rate of up to 160 m³/h, with a head of up to 330m in the standard configuration.
The e-SV ATEX draws its name from the French title of the European Union's 94/9/EC, known as ATEX 95, Directive on equipment and protective systems intended for use in a potentially explosive atmosphere in commercial and industrial applications. It is capable of handling liquids of up to 104°C as standard, however versions are available on request which are can cope with temperatures of up to 194°C.
Gary Wilde at Xylem, comments: "Our e-SV range is well known throughout the industry for durability and efficiency, however up until now the offering did not cover potentially explosive environments. Given the risks associated with this area of the market, we have developed a model which stays true to the heritage of the e-SV – its robust and reliable nature – but is able stand up to potential requirements as outlined under the EU's ATEX 95 Directive."