Local expertise for rotating equipment maintenance
Bromborough Service Centre offers comprehensive support and access to Sulzer's national network.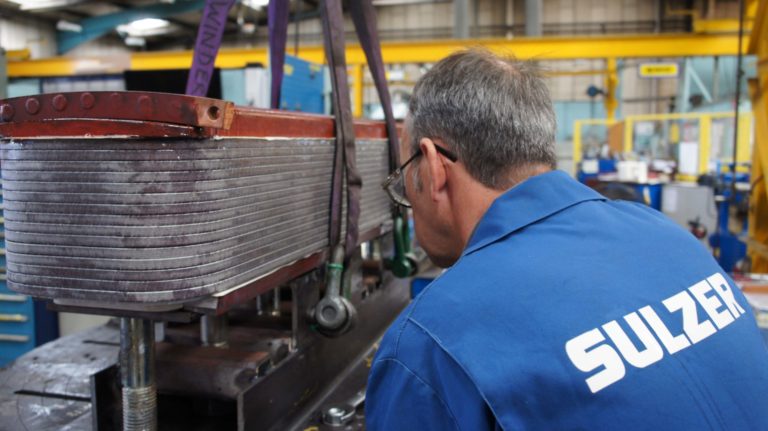 Experienced engineers deliver repairs to generators, motors as well as mechanical equipment. (Image source: Sulzer Ltd.)
Finding qualified, reliable and experienced maintenance engineers that can deliver a fast turnaround as well as in-depth expertise in a wide range of rotating machinery can be a challenge. In the UK, there is a network of seamlessly linked Sulzer service centres that combine all their specialist skills and facilities to deliver comprehensive engineering support. This can be accessed from a single point of contact, such as the Bromborough Service Centre.
From generators and motors to pumps, compressors, turbines and fans, all kinds of rotating equipment are catered for by Sulzer. Across the UK, service centres offer a one-stop-shop for repairs, preventative maintenance and engineering solutions.
Single point of access for all your needs
Customers can benefit from extensive facilities such as high voltage test beds, overnight coil manufacturing, electronic repairs, pump maintenance and precision machining. All of these can be accessed via a single point of contact at a local service centre, such as Sulzer's Bromborough Service Centre, that will coordinate the complete project and keep the customer fully informed of progress.
Sulzer engineers are highly skilled, and the procedures and project management systems have passed the scrutiny of many independent assessors in the process of becoming an approved supplier to a wide range of public bodies, government buildings and large commercial customers.
Field service engineers can attend site to carry out maintenance assessments, as well as condition monitoring, balancing, alignment checks, thermal imaging and vibration analysis. All the necessary investigative work that is required to maintain the performance and reliability of important assets.
Combined and connected maintenance expertise
Sulzer's Bromborough Service Centre, located in Merseyside, provides inspection and maintenance services for generators and motors, as well as mechanical repair capabilities. In addition to its own areas of expertise, the service centre is always able to call on additional support from within the wider national network, which stretches from Southampton to Aberdeen, to provide services for any type of rotating equipment.
For every project, Sulzer's aim is to deliver the most effective solution that will provide on-going reliability and performance. By assessing the requirements of the equipment Sulzer's engineers can provide advice on condition monitoring and preventative maintenance to help extend the service life of important assets.
As a pump original equipment manufacturer (OEM), Sulzer has extensive knowledge in the design and repair of all sizes and makes of pumps. This enables customers to receive the best possible repair service that can include rerates and design changes to accommodate changes in application.