LiquiDoS – a Dosing System With Many Possibilities
LiquiDoS by HNP Mikrosysteme is a convenient and versatile dosing system for analysis, research and development. The compact system is configured according to customer requirements and delivered ready for operation.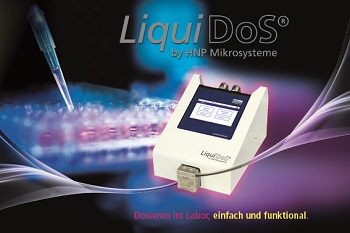 Compact system for analysis, research and development. (Image: HNP Mikrosysteme)
The comfortable, intuitive graphical user interface enables easy programming, reproducible results and a fast change between manual and automated dosing tasks.
The heart of each system is a self-priming micro annular gear pump (mzr pump). This micropump, a filter and a shut-off valve are integrated in a mounting block. These so-called functional modules are characterized by short fluid connections and an optimal dead volume. All components are brought together in a powder-coated carrier frame.
With LiquiDoS, flow rates from 1.5 μl/min to 72 ml/min as well as dosing volumes from 0.25 μl are realized with highest precision and lowest shear stress. Direct entry of dosing quantity and dosing time is possible via mzr-Touch Control. Optionally, hand or foot switches can be integrated for an external start signal.
Emptying and rinsing the system is also started by the intuitive, graphical user interface and therefore, fast media changes are easy. Reproducible results are achieved for single tests, routine tasks and extensive test series in the laboratory. Resources, such as reagents and time, are used efficiently with LiquiDoS. Typical liquids are organic and inorganic solvents, aqueous solutions and low viscosity oils as well as nutrient and buffer solutions.