Compact System for Liquid Color Dosing in Plastic Injection Molding
One of the many advantages of using liquid color is homogeneous coloring even with small dosing quantities. However, if the component is very small, the delivery limit of conventional available metering systems may be undercut.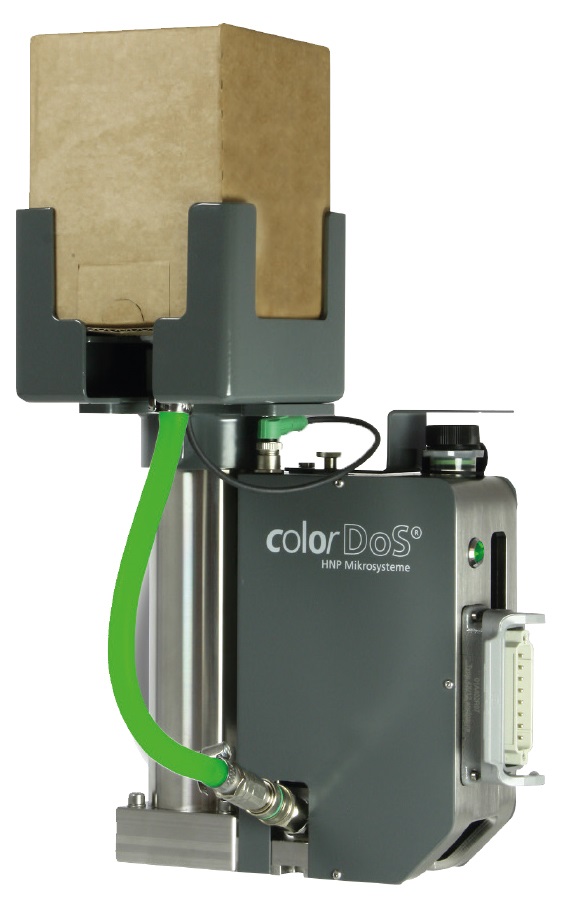 colorDoS dosing system for injection molding. (Image source: ROWA GROUP Holding GmbH)
HNP Mikrosysteme, Schwerin, Germany, has recently launched the colorDoS® dosing system for injection molding applications to ensure precise dosing of the smallest quantities of color. The heart of this system is a micro annular gear pump, various versions of which have already been used successfully for fluid delivery in mechanical and plant engineering, in the chemical and pharmaceutical sectors, and in laboratory and analysis technology. The mzr-7245 modular micro annular gear pump is used in the colorDoS®, which dispenses a shot weight of 0.02 g to 100 g of color per shot, depending on the dosing time and viscosity.
In addition to the option of small-volume dosing, the compact design enables another special feature: the dosing system is mounted above the injection molding machine directly in the feed area of the screw and can be easily integrated into existing machines. As a result, the colorDoS® is ideal for processors who have very limited production hall space and are unable to or prefer not to set up a separate dosing unit.
The resource-saving reusable system ROWASOL COLOR CUBE or disposable Politainer, which are placed on a holder above the pump module, are suitable as color containers.
Low empty volumes and short fluid connections between the container and the pump module, equipped with drip-free quick-connect couplings, ensure a fast and clean color change. A load cell integrated into the container holder monitors the liquid color level. The intuitive display control synchronizes precise, repeatable dosing with the injection molding machine. The comprehensive functionality of the control system is further enhanced through a cleaning mode, recipe management, residual charge display, alarm manager, etc.