Linear Air Pumps
Designed to deliver high volume of steady airflow at low-pressure ranges, ALITA Linear Air Pumps are of high efficiency, low energy consumption and perform with low operation noise. With no sliding parts and oil-less components, ALITA air pump requires no lubrication and transfer air without any contamination.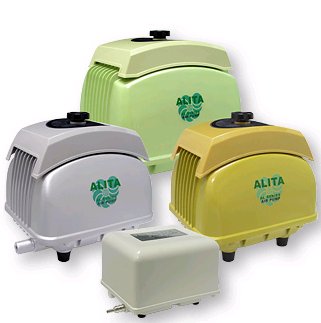 In addition to a wide range of standard pump models that can be utilized off shelf, ALITA also offers OEM and customized linear air pumps to industry for original equipment application.
Range of applications:
Aeration
Air purification
Air sampling
Bubble bath
Gas analyzer
Liquid agitation
Medical and scientific equipments
Pneumatic beds; air mattresses
Wastewater treatment
Main product features
Steady airflow
Oil free, no contamination or pollution
Reliable intermittent or continuous duty operation
Long service life
Quiet and low vibration
Low energy consumption
Compact design and solid construction
Indoor or outdoor operation
Thermal protection
Simple maintenance
ALITA standard linear air pumps conform to the European Community's Machinery Directive (CE) and UL certified in compliance to US and Canadian safety standards for household, commercial, and industrial air compressors and vacuum pumps.