Pump Expertise Enhances Reliability and Efficiency in Saudi Arabia's Latest Facility
Desalination plants are vital assets in arid countries and the price of the clean water is determined by the cost of producing it. In Saudi Arabia, one of the largest facilities in the region has taken advantage of Sulzer's expertise and experience in reverse osmosis (RO) technology to reduce its energy costs and boost reliability.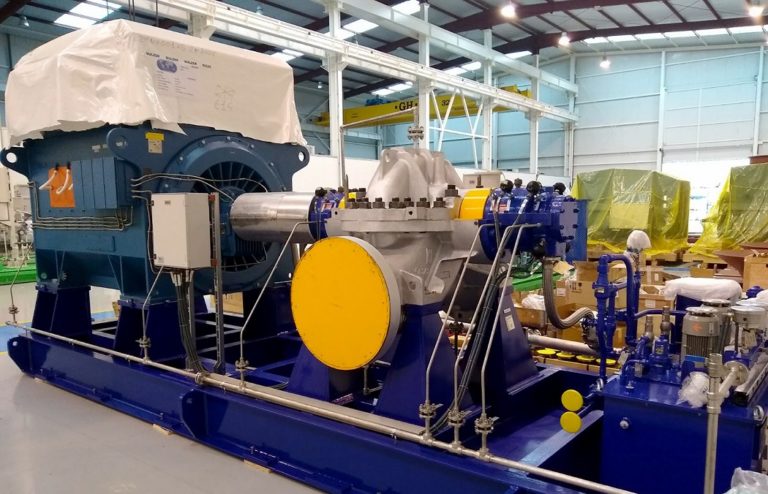 The competitive tender that was awarded to Sulzer included the seven high pressure HPDM pumps. (Image source: Sulzer Ltd.)
The Shuqaiq 3 desalination plant on Saudi Arabia's Red Sea coast is being built by a public private partnership between the Saudi government and an international consortium. The Spanish water engineering specialist, Acciona, is responsible for the design and construction of the plant. When complete, the plant will produce 450'000 cubic meters (99 million gallons) of clean water per day, supplying the nearby cities of Jizan and Abha with a potential population of 2 million inhabitants.
Desalination expertise
Purifying seawater to produce potable water using RO requires the saltwater to pass through a filtration membrane, and the energy associated with the pumps required for this process make up a significant proportion of the total costs. To achieve the maximum possible energy efficiency in the design of Shuqaiq 3, Acciona engaged the expertise of Sulzer's Desalination Competence Center, based in Madrid, at the outset of the project.
Typically, the high pressure pumps used to run large individual RO trains operate at around 87-88 percent efficiency. Instead of the typical configuration, where one pump supplies each RO train, but by using a smaller number of larger pumps, with each unit supplying trains (in normal operation) through a manifold; providing a huge efficiency increase leading to values over 90 percent.
Delivering savings
The competitive tender that was awarded to Sulzer included the seven high pressure HPDM pumps. The contract also included 46 additional pumps to perform various critical roles across the plant, including seawater intake pumps, intermediate booster pumps, high pressure booster pumps and potable water pumps.
All the pumps underwent a comprehensive test regime before being dispatched to Saudi Arabia. In these tests, the critical HPDM pumps demonstrated efficiency of over 90 percent, comfortably meeting their specification and validating the benefits of the innovative design delivered by Sulzer. Construction of Shuqaiq 3 is expected to be completed at the end of 2021.