Leybold UK shortlisted for Composites UK 2022 Industry Awards
Leybold UK, based in Chessington, UK, has made it onto the shortlist for the Composites UK 2022 Industry Awards in the Social Impact category. The industry association aims to recognise those companies whose results improve people's lives and support society. The award honours companies active in the composites industry across the UK.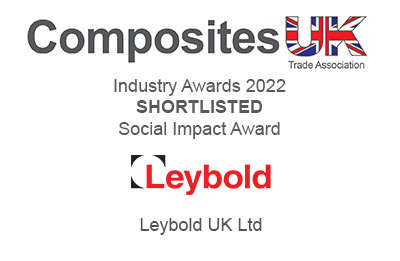 Image source: Leybold UK Ltd.
Commitment to inclusion and well-being
This year's Industry Award in the Social Impact category is open to companies that have made a special commitment to diversity, inclusion and the mental health and wellbeing of their employees. Ian Dorman, General Manager Leybold UK, says: "To be nominated in a category that recognises our efforts in these areas in particular means a lot to the team and is a very important recognition if our well-being initiatives."
Inclusive welcome culture
"The selection alone recognises our commitment towards sustainable working practices," HR Manager Sarah Cogswell emphasises, "We support our employees by fostering an inclusive culture where they are welcome to bring their whole personality to work." The Industry Award in the category Social Impact is therefore also a great incentive for Leybold UK to consistently continue on this path.
Announcement of the winners on 2 November 2022
The winners of the award will be announced at the Awards Dinner at the National Motorcycle Museum in Birmingham on 2 November 2022. The event will coincide with the Advanced Engineering Show 2022 at the neighbouring Birmingham NEC, where Leybold UK will be exhibiting. The Leybold team looks forward to welcoming trade visitors to the Birmingham NEC on stand Q130.
Vacuum systems are used in a wide range of processes
Leybold designs and manufactures vacuum pumps, components and systems that create the necessary production conditions for the industrial manufacture of semiconductors, data carriers, displays, coated architectural glass and solar cells. Vacuum systems are used among in the refinement of steel and the processing and packaging of food. Vacuum is also indispensable for the operation of mass spectrometers and electron microscopes as well as in almost all areas of modern research and development.