Lewa Wins Large-Scale Call for Tenders Held by European Research Center CERN
Lewa Nikkiso Switzerland has won out in a major call for tenders by the European Organization for Nuclear Research (CERN) and was awarded an order worth more than 5.5 million Swiss francs.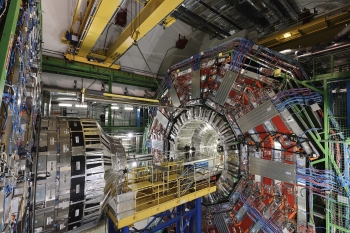 CMS experiment - In order to achieve precise measurements, various detectors are used in close proximity to the interaction point of all experiments. (Image source: CERN)
The contract was signed in September 2018 and includes the delivery of 33 LDG drive units with remote pump heads in single, duplex and triplex designs. These units are intended to cool a variety of detectors using liquid CO2 as part of the ATLAS and CMS experiments. The contract also covers maintenance services on the systems mentioned in the contract by the subsidiary of pump manufacturer Lewa based in Reinach, Switzerland for a period of up to 13 years.
The A Toroidal LHC ApparatuS (ATLAS) experiment and the Compact Muon Solenoid (CMS) experiment are two of four projects currently installed at the Large Hadron Collider, the world s largest particle accelerator, in Geneva. Accurate measurements are achieved using various detectors located in the immediate area of the point of interaction of all experiments. "The detector circuits in these applications are cooled using liquid CO2, since this substance remains thin even at very low temperatures," explains Wieland Wolff, Product Manager at Lewa Nikkiso Switzerland. This means the diaphragm pumps used must be designed to meet CERN s specifications for applications at temperatures as low as -55 °C and in continuous operation for one year. "We met these requirements by creating a remote pump head with a resistant design. Filling the diaphragm intermediate element with ethanol prevents the coolant circuit from being contaminated with oil, even in the unlikely event of a diaphragm rupture. At the same time, the modular design of the pumps and flexibility in the development phase allow us to create custom solutions based on the individual customers requests and specifications," states Wolff. "After submitting the Qualification Questionnaire and being invited to tender, we finally received firm commitment from CERN s Financial Committee on September 26, 2018."
This project is not the first time that CERN and Lewa Nikkiso have collaborated. Back in 2005, the research institute received a Lewa Ecoflow LDC-M9 pump through the Dutch institute NIKHEF. Lewa s Swiss subsidiary followed this by providing CERN with additional pump systems in various sizes featuring a remote pump head design. These pumps were purchased for a wide variety of projects. "Our expertise and ability to fulfill each and every requirement helped us to get our bid for this project accepted," says Pietro Pettoruto, Managing Director at Lewa Nikkiso Switzerland. The first test systems were commissioned in May 2019.