KSB Pumps on Board the White Swan Since 1962
The world's largest seaworthy museum cargo ship, the CAP San Diego with a gross tonnage of almost 10,000, has been equipped with pumps from German manufacturer KSB for over 50 years. The pumps work in various cooling and circulation systems, and as bilge and fire-fighting pumps. They were manufactured at KSB's factory in Bremen.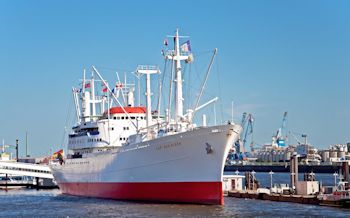 CAP SAN DIEGO, the largest seaworthy museum cargo ship in the world (© thorabeti-Fotolia.com)
The CAP San Diego is owned and funded by the Hamburger Admiralität foundation. The ship is kept operational by a core crew and 45 retired sailors working on a voluntary basis. The CAP San Diego is the last remaining ship of a series of six high-speed general cargo vessels built in 1961/1962 for the shipping company Hamburg Süd which sailed until 1981, generally on routes to South America.
Thanks to its elegant silhouette and white colour the ship was nicknamed the "White Swan" and is now one of Hamburg's most significant attractions. The CAP San Diego has been a museum ship since 1988, and became a floating hotel in 2003. It is now moored at the "Überseebrücke" pontoon facility in Hamburg and makes trips several times a year with up to 500 passengers.
Jens Weber, Managing Director of the CAP San Diego Betriebsgesellschaft mbH: "The CAP San Diego undertakes regular trips with passengers. It is therefore important to have reliable pumps on board – and that is what KSB stands for. The pumps have been in operation here since 1962."
Measuring 159.40 metres long, the ship can travel at 21.6 knots on trips that offer visitors a glimpse of seafaring technology throughout the ages. During the trips, the whole ship is accessible.
Today, the KSB Group continues to equip ships and offshore platforms worldwide. These include the Europa 2 and the Queen Mary 2, which were both fitted out with equipment employing the latest pumping technology. In addition, around 60 percent of all liquefied gas tankers on the world's seas make use of cryogenic valves from the manufacturer.