KSB Presents New Variant of High-efficiency AmaDS³ Wastewater Pump Station
The station is a combination of a patented, dry-installed solids separation system and two waste water pumps in back pull-out design. Having achieved substantial success on the market with this extremely energy-saving waste water transport method in recent years, KSB has decided to further expand the type series.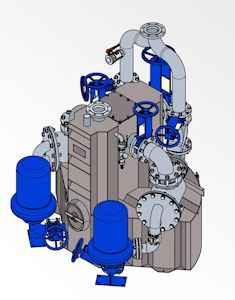 Ein Höhepunkt der Präsentation wird eine neue Ausführung des hocheffizienten Abwassertransportsystems AmaDS³ sein (KSB Aktiengesellschaft, Frankenthal).
A unit designed for installation in confined spaces will now be showcased at IFAT.
The Munich trade fair will also see KSB debut its newly developed permanent magnet synchronous drive for 6-inch submersible borehole pumps. Unlike asynchronous motors, this motor type does not require any current in the rotor to generate torque as the rotor field is created by magnets. This eliminates heat energy losses in the rotor and makes the drive achieve much higher levels of efficiency than traditional asynchronous motors. Thanks to its high output per size, the drive features a very compact design. A frequency inverter is required for its operation.
The latest design of the series-produced synchronous reluctance motor KSB SuPremE will of course also be showcased. In contrast to asynchronous motors, this motor's efficiency is still impressive even if it is not operated at full load. And this is exactly what we often find in an industrial setting since many drives are generally run at reduced speed.
The KSB SuPremE motor will be presented in combination with the latest design of the world's best-selling standardised water pump: Etanorm. Thanks to its efficient hydraulic system, the type series already meets the EU requirements (ErP Directive) of Commission Regulation 547/2012/EU applicable from 2015.
Variable speed systems such as the new PumpDrive introduced at Munich's IFAT allow energy costs to be reduced by matching pump output to actual demand. All sizes have a harmonised design for motors with ratings up to 55 kW. They are available as motor-mounted, wall-mounted or control cabinet-mounted variants and are the only variable speed systems that can control asynchronous motors as well as synchronous reluctance motors. For higher ratings up to 1.4 MW, frequency inverters in book format with IP 20 enclosure are available for installation in a control cabinet.
To represent its comprehensive valve product range the Frankenthal pump manufacturer will showcase soft-seated butterfly valves from the Isoria and BOAX series. Butterfly valves for water transport and treatment applications with a nominal size of up to 4.7 metres are manufactured at KSB's French factory in La Roche-Chalais and at its location in Burgos, Spain.
KSB Service GmbH will display its comprehensive portfolio including traditional maintenance topics, energy efficiency consultancy, retrofitting and reverse engineering services on an extra stand area.
The KSB stand is located in Hall 6, number 321/420.