KSB Launches Latest Generation of Its Etanorm Series
In February 2013 KSB Aktiengesellschaft will launch the latest generation of its Etanorm series, which has been produced non-stop since 1936. The type series of the new generation comprises 43 pump sizes, which can be driven by either 2-pole or 4-pole motors.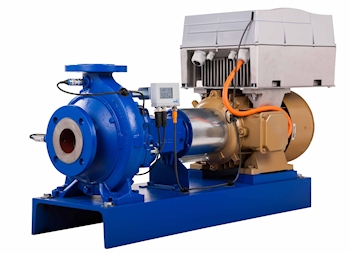 Thanks to the efficient hydraulic system the new Etanorm series already meets the EU requirements of Commission Regulation 547/2012/EC for water pumps. (KSB Aktiengesellschaft, Frankenthal, Germany)
The selection chart has been extended by additional pump sizes, so that sizes can be selected even closer to the best efficiency point.
In intensive work with CFD (computational fluid dynamics) for flow simulation KSB's development engineers have optimised the hydraulic contours. The results were verified in comprehensive tests. Thanks to the efficient hydraulic system the pump sets already meet the EU requirements of Commission Regulation 547/2012/EC for water pumps, which will enter into force in 2015.
The engineers placed a particular focus on an excellent suction behaviour and a low NPSH value, thus minimising the risk of cavitation and obtaining a smooth and stable pump operation even in difficult operating conditions. This means the pumps run reliably and contribute to a greater availability of the overall system.
Confined casing gaskets ensure reliable sealing between pump casing and casing cover even in highly varying operating conditions. The finite element method (FEM), a calculation method for solids simulation, was employed to improve the rigidity of the pump sets. This has increased the permissible forces and moments of external loads acting on the casings.
The material range comprises cast iron, bronze and nodular cast iron as well as stainless steel. The diversity of materials and a large choice of seal variants have extended the suitability of the new type series to applications beyond those of water.
The space allocated to the mechanical seal has been enlarged to enhance venting in this area. The new, spacious design also facilitates dismantling and reassembly of the mechanical seals.
In line with KSB's common practice for industrial pumps, every pump will be supplied to the customer with the impeller diameter trimmed exactly to the duty point. Impeller trimming combined with the large range of pump sizes available for selection is the only way of keeping the energy consumption of the pump to the minimum necessary.
Operators benefit from the type series being manufactured at four different sites — in Germany, India, China and South Africa — which all comply with the same quality standards. This makes global procurement much easier; pumps and spare parts are readily available.
The Eta type series is the global best-seller among standardised water pumps. Since 1936 more than 1.5 million Eta pumps have been produced worldwide.