KNF Launches Smallest 16 Bar Pressure Diaphragm Pump
The new NF 2.35 from KNF Flodos is the smallest 16 bar pressure diaphragm pump on the market and fits into the palm of a hand.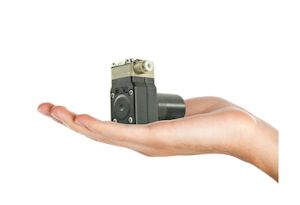 new NF 2.35 from KNF Flodos (Image: KNF)
The latest in a line of high pressure liquid pumps from KNF, the new model delivers up to 100 ml/min at 16 bar - - continuously and over its entire lifetime.
Featuring a patented valve system and quick and reliable hydraulic connections, this highly efficient pump offers an excellent size-performance ratio. Self-priming, it can run dry and is maintenance-free throughout its long lifetime.
The new NF 2.35 has a head made of PEEK, which offers broad chemical resistance. The diaphragm and valves are available in EPDM and FFKM, ensuring that the pump can be used for most neutral and aggressive liquids and gases. This allows the NF 2.35 to cover a wide range of applications, including fuel cells, cleaning and disinfection devices, needle cleaning in medical devices, liquid spraying devices, degassing equipment, pressure and leak tightness control devices, and many others.