KEPL Supplies High-Speed and High-Pressure API BB5 Pumps to Saudi Aramco
Kirloskar Ebara Pumps has announced the successful dispatch of its high-speed and high-pressure API BB5 Pumps to Saudi Aramco, Saudi Arabia's leading base oil company.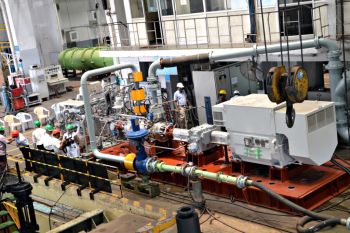 Saudi Aramco (Image: Kirloskar Ebara Pumps Limited)
KEPL's pump model 150 X 100 (A) DCD is designed for high-pressure fluid handling applications, especially in oil refineries and petrochemical industries. The API 610 BB5 pumps are multi-stage centerline-supported heavy-duty double-casing diffuser, designed for handling high-pressure and high-temperature applications. The BB2 pumps are between the bearing single-stage double-suction pump designed for the low-pressure lean amine pumps and the Booster pumps having motor rating of 240 kW having the capacity of 150 m³/ hr and 297.6 meter differential head achieved at a speed of 3558 revolutions per minute (RPM). The BB3 pumps are between the bearing axial-split pumps designed for VDU Feed Booster pumps with motor rating of 830 kW having a capacity of 300 m³/ hr and 490 meter differential head achieved at a speed of 3570 RPM.
Commenting on the development, Mr Aseem Srivastav, MD, KEPL said, "We are extremely pleased to have completed the successful delivery of our pumps to Saudi Aramco. The quality of work and technical knowhow developed by KEPL will definitely increase the confidence in company and the association of two organizations. We are sure this footprint in the international market will be very useful reference in our endeavour to spread our presence globally. Projects like this boost our confidence and help us achieve newer benchmarks in innovation and technologies."
The KEPL's pumps will be used at Saudi Aramco's Luberef Yanbu Refinery, which is the largest crude oil refinery in the world. Located on the Red Sea at Yanbu, the refinery is operated by Saudi Aramco Lubricating Oil Refining Company (Luberef). The refinery is engaged in the production of API Group I straight-run grades. KEPL has been on the Saudi Aramco approval list since 2007. KEPL is set to dispatch around 20 pumps to the company this year.
Saudi Aramco, the state-owned oil company of the Kingdom of Saudi Arabia, is a fully-integrated, global petroleum enterprise and a world leader in exploration, production, refining, distribution, marketing and petrochemicals manufacturing. It manages the world s largest proven conventional crude oil and condensate reserves of 260.2 billion barrels and the world s fourth-largest natural gas reserves of 288.4 trillion standard cubic feet. Saudi Aramco is also among the top producers of natural gas, maintaining the fourth-largest natural gas reserves in the world.