Jung Process Systems Doubles the Turnover Within Two Years
Nearly 2.000 pumps have been installed meanwhile and a turnover of more than 6 million Euro was achieved in 2014 – this means a new milestone in the still young company's history.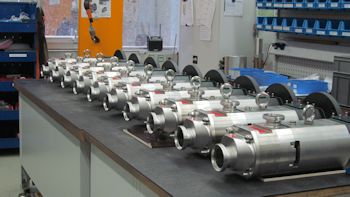 Nearly 2.000 Hyghspin twin screw pumps have been installed since 2009 (Image: Jung Process Systems GmbH)
The pump manufacturer succeeded to double the sales with Hyghspin screw spindle pumps from January 2013 until December 2014. Europe and North America contribute in almost equal parts to this growth of sales, the milk industry forms the most important group of customers.
Jung Process Systems looks back to two very successful trading years. This significant increase since market launch of the Hyghspin pumps accelerated impressively in 2013 and 2014. "With considerable enthusiasm we started in 2009 the production of our own pump series and today, five years later, we are very proud of the results we achieved", reported Anke Jung, Managing Director of Jung Process Systems. "With this development we even exceeded our own ambitious targets. The prospects for 2015 are also perfect. We expect a continuous high demand", stated Anke Jung. Weshen Christov, Technical Managing Director, amplifies: " We are well known and accepted as technological leader and are permanently further developing our pumps".
Unbowed innovative capacity
Already with market launch of the Hyghspin pump series on occasion of the drinktec 2009 the company could offer a complete type series consisting of four sizes of pumps with feeding capacities from 30 l/h up to 300 m3/. In 2012 the double-flow Hyghspin DF series was developed which is mainly suitable for high pressure targets. In the same year the pump design was slightly modified. Since that time a revision opening facilitates the exact adjustment of the flank clearance after changing the feed screws or the mechanical seals. Together with the international sales and service partners Jung Process Systems always reacts flexibly with regard to customers' requirements and offers the Hyghspin pumps since 2013 also as completely pre-assembled units with important peripheral equipment such as control engineering as well as other controlling instruments. During the past months the company developed a new hygienic screw spindle pump Hyghspin H series for non-flowable products which also represents the focal point during the Anuga FoodTec exhibition. Weshen Christov still considers substantial potential for the screw spindle pump: "We are already working on further pump adaptations to open new markets."
Strong Sales Partners guaranty international presence
In 2014 the export share amounted to approx. 80 % of the turnover. The most important export markets are Europe and North America. Strong and reliable sales partners in these areas are the first contact persons for the local customers. A tight connection to the partners of the parent company in Pinneberg and the intense collaboration with regard to the individual market requirements substantiate the innovative capacity and support quick times of reaction. "In order to secure our upgrowth it will be a fundamental target for the next years to find new sales and service partners also in those countries where we intend to expand our activities – mainly in the Asiatic area.", amplifies Anke Jung.