Jet Edge Introduces Waterjet Intensifier Pump
17.03.2009
Jet Edge Inc. is pleased to introduce its new 50hp 90,000psi (6,200 bar) X-Stream xP90-50 waterjet intensifier pump. The Jet Edge X-Stream xP90-50 achieves much faster waterjet cutting speeds and drastically lowers operating costs compared to traditional 60,000psi (4,100 bar) waterjet pumps, enabling users to increase productivity and reduce part costs.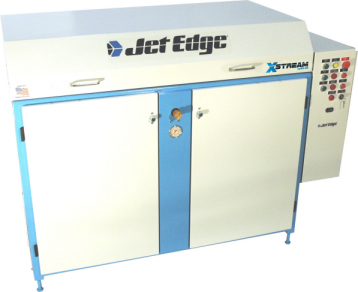 Jet Edge
The X-Stream xP90-50 produces 50% more pressure than a 60,000psi waterjet intensifier pump, resulting in a 40-50% increase in productivity for many materials. Compared to a 60,000psi pump, typical operating pressures of 75,000psi use 30% less water and up to 50% less abrasive, resulting in a 40% reduction in operating costs.
The X-Stream xP90-50 supports a 75,000psi (5,200 bar) continuous operating pressure. At 75,000psi, it will produce flow rates of 0.7 gpm (2.61 lpm) and support up to a .011" (.28mm) orifice.
Jet Edge's X-Stream waterjet pump also is available in a 100hp model. Jet Edge X-Stream pumps can be installed with new waterjet systems or retrofitted to existing waterjet systems.
About JetEdge
Established in 1984, Jet Edge is a global designer and manufacturer of waterjet systems for precision cutting, surface preparation and coating removal. Jet Edge systems are used around the world in a broad range of industries, from the world s leading airlines to automotive, aerospace, industrial manufacturers, machine and job shops. Jet Edge waterjet systems are proudly made in the U.S.A.