ITT Names Usha Wright to Senior VP and Director of Global Workforce Strategy
ITT Industries, Inc. announced the appointment of Usha Wright to the newly created position of Senior Vice President, Director of Global Workforce Strategy. Since 1997, Wright has been Vice President, Associate General Counsel and Director of Environment, Safety and Health (ESH) for ITT.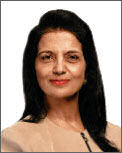 Usha Wright, Senior VP and Director of Global Workforce Strategy (photo: ITT Industries)
In her new role, Wright will have global responsibility for driving and delivering the company's integrated diversity and work/life strategy and programs. She will report directly to Chairman, President and Chief Executive Officer Steve Loranger.
"Usha Wright was chosen for this critical post because of her success in bringing our Environment, Safety and Health, Business Continuity and Product Safety processes and performance to world-class status, and we're counting on her to do the same for our diversity initiative," Loranger said. "Her appointment is a major statement in support of ITT's commitment to diversify our employee base and adopt work practices that better reflect the global company we are today, as well as to expand our talent pool and enhance our reputation as an employer of choice inside and outside the company."
Wright joined ITT in 1993 and was named to her most recent post in 1997. As head of ITT's ESH practice, she has been instrumental in improving all key metrics related to waste reduction, health and safety, and environmental performance within ITT's operations, ensuring that ESH is an integral part of the company's business strategy. Based primarily on these improvements, ITT has been included in the Dow Jones Sustainability Index for 4 years, which includes companies that excel in economic, environmental and social performance. Over the last two years, she has been the executive sponsor of ITT's Diversity Committee. Prior to joining ITT, Wright served in a number of industrial, legal and ESH roles with Ciba-Geigy.
Wright holds a B.S. in Chemistry from Rutgers University, an M.S. from University of North Carolina - Chapel Hill and a J.D. Law degree from Rutgers.
About ITT Industries
ITT Industries, Inc. (NYSE: ITT) supplies advanced technology products and services in key markets including: fluid and water management including water treatment; defense communication, opto-electronics, information technology and services; electronic interconnects and switches; and other specialty products. Headquartered in White Plains, NY, the company generated $6.8 billion in 2004 sales.
In addition to the New York Stock Exchange, ITT Industries stock is traded on the Midwest, Pacific, Paris, London and Frankfurt exchanges.