Innovative Fluid Connectors Simplify Construction of State-of-the-Art Compressor Seal Testing Line
Parker Instrumentation s innovative new fluid connector, Phastite, has simplified the construction of a state-of-the-art facility for testing dry gas compressor seals at John Crane s new turbomachinery facility in Slough, UK.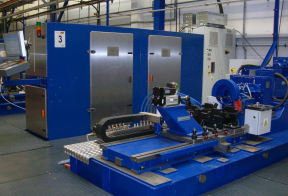 Phastite connectors have been used to provide high pressure connections for the permanent flow connections inside each of five new rigs at John Crane s new multi-million pound test facility (Photo: Parker Instrumentation).
The new connector s combination of high pressure operation and push-fit assembly has allowed the company to make considerable time savings compared with a system built using the conventional options of cone-and-thread and welded tube connections.
John Crane is the world s largest manufacturer of mechanical sealing systems and has invested over £2.4 million in its new Gas Seal Test Facility. This included the installation of five new high-pressure test rigs that reproduce a vast range of compressor environments. Upgraded test facilities include the ability to test at higher pressures than was previously possible — up to 800 bar (11,603 PSI). The rigs are also able to test seals with shaft diameters up to 500 mm (19.7 inches), or at speeds to 42,000 RPM.
Phastite connectors have been used to provide high pressure connections in two areas: for the permanent flow connections inside each of the five test rigs, and for the permanent flow connections on the large-bore gas service tubes that supply compressed air and helium gases to the test cells.
On previous compressor seal testing equipment, John Crane typically used cone-and-thread style fluid connectors for high-pressure lines, which required substantial time for preparation, and assembly. The recent launch of Parker s Phastite offered a new time- and money-saving option to the equipment builders, allowing these high-pressure connections to be assembled by a push-fit operation taking seconds.
The five test rigs simulate the real-world gas pressures that will exist inside compressor casings and provide high-accuracy instrumentation to measure any leakage from the seal. Each of the five rigs requires around 20-25 permanent high-pressure connections. Compared with implementing these using cone-and-thread connectors, Phastite allowed the equipment builder to eliminate machine-based preparation of the large bore tube ends, and the subsequent thread cutting. Phastite connectors were simply slid onto the tubing ends and assembled in seconds using a hand-held tool.
A spokesman for the equipment builder noted: "Phastite gave us a much faster and more efficient assembly process. For high-pressure and high flow rate applications, Parker s new fluid connector technology offers a very interesting alternative wherever permanent fluid connections are needed. The connectors are also very attractive for this application because of their intrinsic resistance to vibration."
Phastite connectors are also employed on two large-bore tubing runs that supply compressed air and helium gases to the test rigs. These long pipes carry the gas services around the test bay, above the test equipment. T-shaped Phastite connectors are used to provide junction points for delivering gas into each test cell. In this application, Phastite connectors provided an alternative to welded connections, saving the cost and time of orbital welding. Around 30 joints in total were needed to implement the tubing runs; each of these being assembled in less than 2 minutes using the handheld tool. The complete installation exercise for the gas services, including cutting and mounting the tube runs, took just one day. The simplicity of this approach allowed John Crane to reduce installation costs to a small fraction of the cost of a welded system.
John Crane s investment sees the company s test bay facilities upgraded to handle twice the previous number of seals being tested, and to allow higher pressure testing. In addition, the new rigs have a sophisticated data acquisition system that allows customers who are located remotely to monitor testing of their own seals online. This will help to speed delivery, saving time and money for customers who would normally send someone to witness the tests. As John Crane supplies compressor seals worldwide, these savings can be significant.
About Parker
Parker Instrumentation is part of the Parker Hannifin group. With annual sales exceeding $10 billion, Parker Hannifin is the world s leading diversified manufacturer of motion and control technologies and systems, providing precision-engineered solutions for a wide variety of commercial, mobile, industrial and aerospace markets. The company employs more than 57,000 people in 43 countries around the world. Parker has increased its annual dividends paid to shareholders for 52 consecutive years, among the top five longest-running dividend-increase records in the S&P 500 index.