Innovative Dosing Technology is the Driving Force for Tomorrow's Technologies
Almost 400 experts from 32 nations met on the 15th and 16th of May at ViscoTec's CID (Customer & Innovation Days). Next to numerous live demonstrations the event focused on a total of 33 presentations highlighting the latest developments and the current issues surrounding dispensing technology and its use in various industries.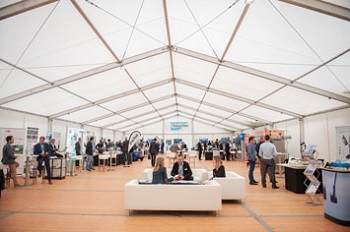 Exhibition tent at the CID (Customer & Innovation Days) of ViscoTec. (Image: Oleg Fust - Fustmedia.de)
In almost every branch of industry something is either glued, potted or precisely dispensed: From production in the automotive sector to the aviation industry, food production, medical technology, pharmaceutical and biotech production - and last but not least in the cosmetics industry. Pressure to cut costs and financially strong Asian competitors are just two factors forcing manufacturing companies in all sectors to further automate production and in this way make it even more efficient. How should dispensers, dosing and filling pumps be designed in order to apply liquids with one or more components? How to cast or spray materials? How can viscosities of up to 7,000,000 mPas be dispensed? These were just some of the questions discussed at the ViscoTec Innovation Days. Altogether, the 33 lectures, given by internal and external speakers, covered a variety of current topics from the fields of e-mobility, the electronics industry, aerospace, hygienic design (pharmaceuticals / cosmetics / food) and the cutting-edge field of 3D printing.
High density of visitors for specialist presentations
It is becoming ever more important for e-mobility to ensure the protection of sensitive components over a long service life, e.g. by adding a protective layer. What are the technical possibilities? How can modern dispensing technology be effectively integrated into automation concepts in order to achieve this protection? Questions such as these were answered in detail during various presentations. The lecture on battery storage assembly lines, which are also innovation-driven and increasingly automated, was also very popular – another important area in terms of dispensing technology in e-mobility production. The speaker of an international chemicals company took a step "outside the box" by presenting trend-setting ideas for the automotive industry under the title "Driving Tomorrow's e-Novation".
A topic concerning the electronics industry: The perfect dispensing of small quantities. Another presentation therefore focused on the difficulties involved in applying electrically conductive adhesives precisely and gently, and how these can be overcome.
The lecture on light-curing dedicated to two-component materials dealt with a similar question. Which dispensing system is best suited for this? What solutions does the electronics industry need to come up with in order to produce good lighting systems?
In contrast, a session on the aerospace industry posed questions of a completely different dimension. How can adhesives and other liquids be best processed? In what ways can aerospace components be produced even more efficiently and to the highest quality standards in the future?
A ViscoTec lecture on the topic "Gentle dispensing of viscous materials - empirical determination of shear rates" also addressed quality assurance. Here, the audience learned why this particular parameter plays such a central role, especially in the pharmaceutical and cosmetics industries, and which technical concepts can be implemented in hygienic design to bring it under control. There was also high attendance at a session focusing on the challenges of filling medium- to high-viscosity materials and the handling of materials containing solids – topics that are challenging for both the pharmaceutical and the cosmetics industries. Parallel to the specialist presentations, ViscoTec also provided an insight, for example, into developments in the hygienic design sector in its in-house Customer Innovation Center. Visitors learned, how dispensers can be integrated into systems and which hurdles have to be overcome when designing dispensing systems for the regulated market.
Much attention was also paid to the use of a small pump, which is used for 3D printing of human cells. At the Technical University of Munich, a consortium called CANTER is conducting research into technologies that will make it possible to produce tissue replacement materials. In the future, cells could be produced which are individually tailored to meet the needs of the patients concerned. The potential of this technology in the individual treatment of heart disease in the future was only one of many questions that the speaker answered. A presenter in a session on "Print heads for 3D printing of liquids and pastes" answered the general questions to be considered when dispensing for 3D printing.
In addition to the specialist presentations, visitors from all over the world were shown a wide variety of applications on an exhibition area of 960 m² with 23 external exhibitors and several ViscoTec stands. In addition to a wide range of dispensers, dosing and filling pumps of varying volumes, the well-frequented exhibitor area also offered the trade visitors sample applications for emptying and treating systems such as those used for the air bubble removal from adhesives. Live demonstrations took place at almost all of the exhibits. This also led to a lively exchange between the specialist disciplines among representatives from almost all industries. They dealt with the problems in the day-to-day handling of viscous products and exchanged ideas for new technical solutions. The Customer & Innovation Days presented themselves as a good platform for networking international material manufacturers, system suppliers and users thanks to the quantity and variety of topics presented and the parallel exhibition, all united by the same goal: To make production cutting-edge and to promote added value. "The Customer Innovation Days were a good opportunity to exchange ideas with colleagues from other industries. And the fact that live demonstrations took place at the exhibits and that the engineers were able to explain their views on how to implement them has once again significantly enhanced the practical transfer of know-how and the entire event," summarized one visitor on behalf of his colleagues.