Innovation, Quality and Internationalisation – The Key Drivers to the Success of MCE
Mostra Convegno Expocomfort 2014 staged from 18th March through 21 March confirmed once again, its position as the world's leading trade fair for diverse industry sectors, including residential and commercial installations, air-conditioning, and renewable energy.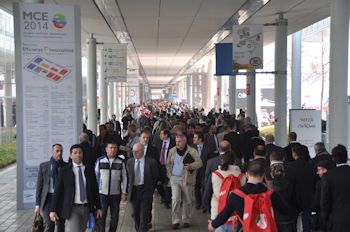 Mostra Convegno Expocomfort 2014
More than 2,000 exhibitors, of whom 43% from abroad representing 59 countries, an unparalleled showcase for the most ground-breaking solutions aimed at 155,987 trade professionals who filled the aisles of Fiera Milano, seeing it as the ideal opportunity to give boost to the market and create new partnerships.
A 3% rise in international visitor figures compared to 2012 and a gross attendance of 36,311 people who made their way to the show from 146 countries. In particular, there has been a rise in the number of attendees from the countries of the Asia-Pacific region including China, Turkey, Israel, South Korea, and from Africa (especially Algeria). Moreover, there has been an increase in the number of participants from strategic markets such as USA, Argentina and Eastern Europe, with a huge rise in figures from Poland. In addition, France, Spain and Switzerland registered a major increased numbers, confirming the trend of the show of faith by Western European companies in a leading specialised fair. MCE 2014 attracted over 119,676 trade visitors from Italy, in line with the 2012 edition, recording 33,734 attendees (up to 28%) from the North-East, and over 11,516 visitors (10%) from the South and the Islands. An international audience of skilled professionals who turned to MCE as an unparalleled showcase for a short-list of activities aimed at realizing efficient and self-energy sufficient buildings via innovative technologies, new functionality or integrated systems with enriched living comfort.
"The positive response received by MCE 2014 - declared Massimiliano Pierini, Business Unit Director of Reed Exhibitions Italia – was buoyed by a general air of optimism pervading the four-day exhibition, indicating insufficient confidence in the domestic market, but a robust recovery in the foreign markets. "The real protagonists behind the success of this edition are the exhibiting companies. MCE 2014 will be remembered as an international benchmark event showcasing the most innovative solutions bringing together the entire manufacturing and distribution arms in air-conditioning, refrigeration, heating, tools, hardware, sanitary technology, water treatment, domotics and renewable energies sectors. A concrete platform for better matching supply and demand where one to one contact confirms the perceived added value of the show to promoting a product or exploiting new business opportunities.
Four full days of exhibition presenting a packed scientific conference programme. Three institutional conferences with a focus on a current topical issue: "Smart Plants & Smart City", the common thread running through all initiatives at MCE 2014. Plus, the conference calendar integrated with a list of 197 training meetings, organized by the main trade associations and partners of MCE as well as workshops set up by exhibiting companies in the new area Business & Conferences located in several halls and by the agenda of THAT'S SMART, a new format that fits inside the event dedicated to building automation. The inaugural conference of MCE 2014, has been the perfect stage to celebrate the centenary of ANIMA, (Federation of Italian Associations of Mechanical, Engineering and Related Industries), attended by the industrial world, institutions, Italian and international stakeholders and the press.
PERCORSO EFFICIENZA & INNOVAZIONE and OLTRE LA CLASSE A 2014, have proved a big hit once again. Two initiatives organized thanks to the support of MCE Scientific Committee, chaired by a representative of Milan Polytechnic, Department of Architecture, Built Environment, and Construction Engineering – to offer an exhaustive overview of the ground-breaking solutions in the four industry macro-sectors featured at MCE. A signboard system has led visitors to find and touch 87 products by 56 companies selected for PERCORSO EFFICIENZA & INNOVAZIONE. A virtual path shown on the website offering an exhaustive overview of the most innovative products and systems according to new planning criteria. The crowning moment of this initiative has been OLTRE LA CLASSE A, the unique event area set up in Hall 22 where an excellence shortlist of up to 32 solutions have been on display among the products admitted to PERCORSO EFFICIENZA & INNOVAZIONE, in terms of innovative technology to realize high efficiency projects.
Plus, a resounding thumbs up for THAT'S SMART, the new MCE event dedicated to Domotics, Home & Building Automation solutions, monitoring and management of renewable energy sources – located in Hall 4 – putting the spotlight on synergies among power, HVAC and sanitary industries showing a highly integrated planning and design to reach a high level of energy efficiency, energy saving and real comfort. THAT'S SMART has also offered a rich programme of workshops developed by a Scientific Committee expressly established on that occasion and focused on the current hot topics in Domotics and Building Automation. THAT'S SMART presented "Electric Mobility Generation" a special exhibition area set up in collaboration with eV-Now!, dedicated to sustainable mobility. Plus, test drives have been offered all attendees the opportunity to drive eco-vehicles inside the Exhibition Centre for either commercial and private use.
An important role in the success of MCE 2014 was played by www.mcexpocomfort.it. Over the years, the official website of MCE has become a privileged tool for the online community, registering - during the period April 2012 to April 2014 – 441,510 net surfers (+ 5.7%),171,217 (+ 5.7%) of whom from over 189 foreign countries and 266,615 (+24%) and 281,703 total net surfers (+6.9%) of a total of 1,512,608 page views. MCE website provides a very thorough overview of online services offered to exhibitors, who can easily download the exhibitor registration pack. On the other hand, visitors found all the information they needed to plan their exhibition visit, travel and accommodation, online pre-registration and online ticket purchase at a special tariff rate as well as discounted bus and train tickets. The special section "Companies News" that has achieved a resounding success, is a virtual showcase providing a full panorama of news about best-in-class products, initiatives promoted by exhibiting companies at MCE, and relevant case histories updated by exhibitors every month. 2014 registered up to 600 news published online both in Italian and English.
Booming of MCE's pages on Facebook, with 4,436, Facebook likes (+655%) and 1,719,667 fans (+692%), and Twitter with 799 tweets (+415%), 800 followers (+106%) and 53 klout scores (+43%), offering a unique chance to know what happens live at MCE, with photos, videos and discussions. Finally, visitors free download of the new mobile "App" for all platforms, 5,040 (+45%) apps installed on Android and 3,410 (+270%) apps on Apple, hit the nail on the head.
The organization has already started working on MCE 2016 scheduled for 15 -18 March 2016. MCE for the first time will be launching MCE SAUDI from 4 to 6 May 2015 in Riyadh, one of the most attractive markets showing the highest potential in the heating, plumbing and sanitary ware industries and MCE ASIA from 2 to 4 September 2015 in Singapore, a strategic hub towards several countries, such as Thailand, Vietnam, Indonesia, Philippines, Malaysia, South Korea.