Hygienic Twin Screw Pump from Wangen Used for Fatty Acids
Omega - 3 fatty acids are known for their health benefits for a long time. They are used in the health and food industry and are now a popular dietary supplement or are added to functional food. Every year more than 100,000 t with omega - 3 fatty acids enriched oils are consumed worldwide.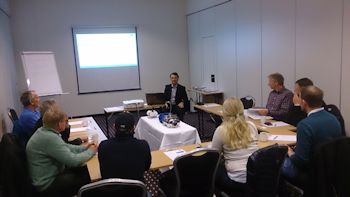 Product demonstration Wangen twin screw pump : John Booth , Sales Development Manager of Wangen Pumpen with the representatives of the Norwegian fish processing industry (Image: Wangen Pumpen)
Raw material for obtaining them are fish oil or algae. Manufacturers place great emphasis on a hygienic design of the production plant in order to ensure a secure production of omega – 3 fatty acids.
"The hygienic screw pump is a very interesting alternative to the usual displacement and centrifugal pumps for us, because it can do both conveying products and cleaning the plant in place (CIP)," said Harald Kjearstad by the Norwegian company HPK Consult. "This saves us not only a centrifugal pump including pipes for CIP / SIP cleaning, but also brings significant benefits in terms of hygiene: The fewer components in the system are installed, the fewer sources of contamination can occur."
In Alesund, Norway, a seminar for the fish processing industry was held recently. It was organized by Lars Frost of Froster AS, the Wangen Pumpen distributor in Norway.