Hygienic Pumps Suit High Pressure, Low Flow Applications
The established range of CSF pumps available through fluids handling specialists Pump Engineering now includes the CP Series, a close-coupled, single stage peripheral impeller pump which is ideally suited to high pressure, low flow hygienic applications.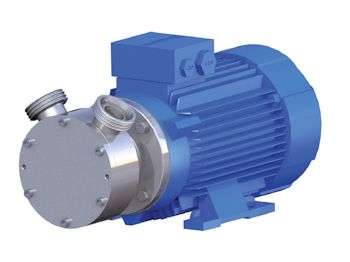 Pump Engineering
The range includes models which provide flow rates up to 6 m³/h, heads of more than 100 metres and maximum outlet pressures of 16 bar.
The standard design models are suitable for transferring clean, non-abrasive liquids such as syrups and oils with viscosities up to 250 cp. This design has the important benefits of smooth, pulsation-free flows which can be controlled more precisely than a centrifugal pump. This is important for liquid dosing, laboratory, pilot and micro-installations, spraying and in-line measurement applications.
The CP Series of regenerative turbine pumps generally requires a lower NPSH than a centrifugal pump and can handle liquids with up to 20% entrained gases which is ideal for tank emptying where vortexing or cavitation can occur. The pumps are available with a choice of seal configurations to ensure optimum flexibility depending on the application.
For example, the standard option has an internal mechanical seal wetted by the media and fitted behind the impeller in a chamber to ensure correct fluid flow and lubrication. The double mechanical seal option is designed for the circulation or flushing of cooling liquids and can be used with products that tend to crystallise, adhere, solidify, or are abrasive and corrosive.
The third option has a single mechanical seal which benefits from enhanced protection and is hydraulically balanced and bi-directional to facilitate easy cleaning and is therefore ideal for aseptic and food applications.
The pumps feature wetted parts in AISI 316L stainless steel rolled bar, electro-chemically polished for a perfect surface finish.
Typical applications for CSF CP Series pumps will be found in food, beverage and dairy processing and CIP (cleaning-in-place) as well as in the chemical, cosmetic and pharmaceutical industries.