Hydrogen Helps Secure the Energy Supply
Prof. Dr. Andreas Pinkwart – Minister for Economy, Innovation, Digitalisation and Energy of the German state of North Rhine-Westphalia – visited the pump manufacturer Wilo to learn about the company's hydrogen strategy.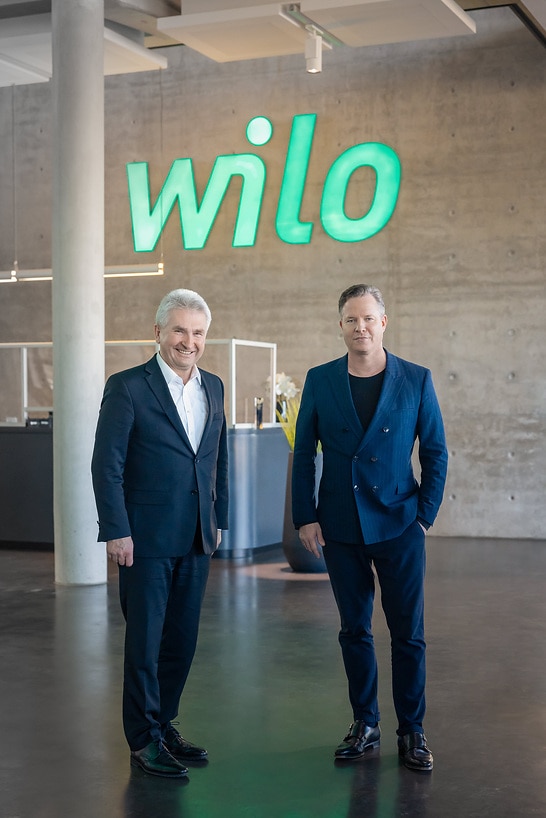 The Minister for Economy, Innovation, Digitalisation and Energy of the State of North Rhine-Westphalia, Dr Andreas Pinkwart, and Oliver Hermes, President and CEO of the Wilo Group. (Image source: WILO SE)
During the visit, Oliver Hermes, President and CEO of the Wilo Group, not only stressed the importance of hydrogen for the competitiveness and energy autonomy of German industry, he also presented Wilo's plans for its own hydrogen plant in Dortmund. The so-called H2 Powerplant is to be put in commission as a pilot plant already this year at the Wilopark.
"Hydrogen replaces fossil fuels and affords Wilo an autonomous and secure energy supply", Oliver Hermes says. "Thanks to our photovoltaic power plant, we can create climate-neutral hydrogen right here on site and use it for our electric fleet, for example. In this way, we are closing our local energy cycle, further improving our climate footprint and continuing to effectively implement our sustainability strategy."
Economy and Energy Minister Prof. Dr. Andreas Pinkwart emphasised how important forward-looking technology is for North Rhine-Westphalia as a business location: "Hydrogen is a central building block for North Rhine-Westphalia on the route to transforming local business and industry in order to reach our goal of climate neutrality by 2045. We can produce hydrogen locally in a decentral manner, as Wilo impressively shows here, diversify our energy imports even more and increase our energy autonomy."
Already today, hydrogen is more than a vision for the future for Wilo. Much of the required technology – from emission-free energy production to pumping and transporting water, to driving generators – is already part of the company's core business area. "I see additional enormous market opportunities for Wilo", says Hermes. "Our products, systems and solutions will make an essential contribution to the production, distribution and use of climate-neutral hydrogen worldwide in the future."
Wilo is already amassing additional process and technology expertise in electrolysis, pyrolysis, plasmalysis and fuel cells for this purpose. The H2 Powerplant is therefore an important step in gaining early practical experience as a producer, user and later supplier of hydrogen technology.
In industry above all, but also in logistics and modern communities, Hermes sees potential for modular hydrogen plants. In this way, plant operators and municipalities can produce and use energy locally and climate neutrally – to not only counteract climate change but also become the world's innovation leaders. "The current approvals process is too vague and slow. Solutions have to be found at the federal and state level, so Germany can take a leading role in this forward-looking technology", Hermes urges.
The Dortmund Chamber of Industry and Commerce shares this view. Its Managing Director Stefan Schreiber says: "The way that Wilo is going with its sustainability strategy is an extremely welcomed development. In light of the current economic situation, the topic of security of supply is extremely important. The H2 Powerplant could be an important answer to the most pressing questions regarding the future. Business and, in particular, industry need a quick and reliable approvals process for this."