Grundfos Opens Factory in Russian Growth Market
A booming economy, intensive building activity and an extensive demand for the replacement and renovation of existing pump plants have created the basis for the 10,000 m2 of production facilities near Moscow, which Grundfos opens today in order to supply the Russian market directly with efficient and energy-saving pumps.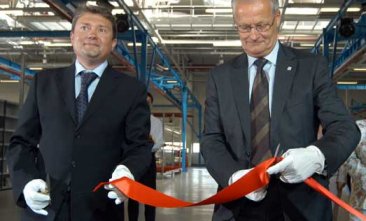 To the right: Group President Jens Jørgen Madsen, Grundfos, during the inauguration (foto: Grundfos)
Years of record growth
"Russia is one of the fastest growing markets in the world for Grundfos. Year after year, sales of Grundfos pumps rise by rates of 40 to 50 per cent.
We expect this extremely positive trend to continue. For some time, our distribution channels have struggled to keep up with market demands. But during 2004, we have invested in building internal sales competencies and targeted external sales and distribution channels to ensure professional service to our customers", says Group President Jens Jørgen Madsen, Grundfos.
Optimum ability to supply ensured
"At the same time, we would like to show that we appreciate the great interest in our products by ensuring optimum ability to supply to our customers. That is why we have invested in production facilities, storeroom and a distribution centre and why we have made sure to have plenty of room to expand production capacity in Russia in the future. Initially, the factory will be used for the assembly and test of components from other Grundfos production facilities in Europe. However, we plan to find local suppliers who can take part in the supply chain", Mr Madsen explains.
Market focus
Grundfos entered what was then the Russian market as early as in 1962, and in 1992 the Group was ready to open an agent's office. In 1998, Grundfos opened its own sales company in Moscow, and today the Group has a string of offices by which to serve the growing number of Russian customers.
By the factory opening in Russia, Grundfos underlines that the globalisation of production facilities is continuing at full speed in 2005. Thus, the factory in Russia, together with factory openings in China and India, will mean that the Grundfos Group opens a total of 55,000 m2 of new production space this year.