Fristam FL3 Pumps Deliver Concentrate to Spray Tower
In dairy processing, pre-concentrated products are transported to spray towers using either centrifugal or displacement pumps, depending on the type of technology. The Fristam FL3 rotary lobe pump has been found ideal when given the task of processing dairy for spray towers with spraying disks due to its unique helical rotor design.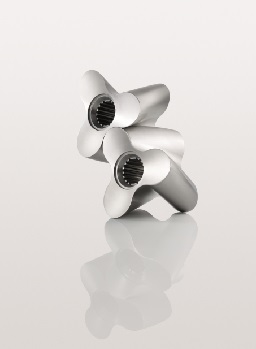 The unique helical rotors deliver high suction power and absolutely smooth product conveyance. (Image: Fristam)
The FL3 is a high-performance hygienic stainless steel pump that combines trouble-free processing with gentle product conveyance. In addition to these features, the FL3 is easily cleaned and can transfer the product both ways through its system with ease, making them ideal "2 in 1" pumps that are suitable for running CIP cycles.
In powder production, milk or whey is concentrated and dried in a multi-stage process. Several different processes are available for every stage. For example, falling film evaporators are in widespread use for pre-concentration, with the bulk of subsequent drying being handled by spray-drying equipment. With the help of these processes, dairy processors make, for example, from liquid milk with a water content of more than 85 per cent, powdered milk containing less than 5 per cent water, however with a correspondingly higher content of fat, proteins, lactose and minerals.
Proven efficiency of FL3s as concentrate pumps
In spray-drying systems operating with spraying disks, it's highly advantageous to use displacement pumps to transport the concentrate to the tower. The FL3 rotary lobe pump has proven this by successfully operating on site at European dairy processing plants without any problems. The FL3 pumps can be controlled to operate precisely and accurately as their displacement volume can be accurately metered directly by regulating the pumps motor speed. Having this kind of control ensures consistently good powder quality in batches and ensures the drying system can function faultlessly. In addition to this, FL3 pumps deliver precisely the required quantity of concentrate to the tower which keeps the exhaust gas temperature constant. The latter is determined by the quantity of relatively cool concentrate in relation to the hot drying air inside the tower, the decisive parameter of the system. This balance should be kept as constant as possible over the entire production process. Subsequently, the concentrate is finely atomised inside the tower by the extremely fast rotation of the spraying disk, then dried, further processed and packaged.
The FL3s virtually pulsation-free operation
The innovative design of the FL3 tri-wing helical rotors enables virtually pulsation-free operation even for large displacement volumes of up to 50 m³. Thanks to the extremely narrow dimensions of axial and radial gaps separating the two rotors from each other and from the pump's housing and cover, a gentle, homogeneous and smooth product flow is generated. The wide motor speed window of up to about 800 min-1 allows for both product conveyance and CIP cleaning to occur all in one pump, so that an additional centrifugal feed pump for CIP liquid can be dispensed with.